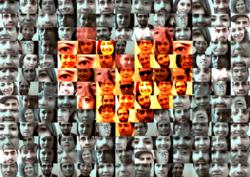 The I Love You Project® is a global social art initiative that celebrates and encourages diversity.
Brooklyn, NY (PRWEB) May 17, 2013
The I Love You Project® founded by New York artist Debbie T. Davies is a global initiative celebrating diversity and uniting communities by expressing love within the context of a visual art form. The videos and photographs on display during the upcoming exhibition include multi-cultural participants living in Barcelona, Frankfurt, and Giessen. Images were captured by Davies using a digital microscope camera; sound recording and music composition by German photographer and sound artist Julius Schon, and edited by New York-based editor Kendall Smith and video artist Santina Amato.
In March 2011 The I Love You Project was conducted in Raval, Spain. Davies captured videos and photos of 82 people saying "I love you" in 18 languages. In summer 2012 the project continued in Frankfurt and Giessen (Germany) and captured images of over 80 people representing 32 languages for the "Hessen" version. The digital microscope camera creates unexpected images that play with skin tone, contrast, color, speed, and light in unexpected ways. Participants say "I Love You" into the camera in whatever language they prefer. Voices are recorded separately and an original music soundtrack is composed by Schön. Through this project, the artists hope to unite residents, and show that change begins through love. This project is the part of an ambitious global initiative to reproduce this experience in other cities.
In Berlin, during the 48 Hour Neukolln festival, Davies and Schön will record visitors in both a gallery (Schillerpalais) and restaurant (La Pecora Nera) setting. Due to the high immigrant population of the area, they hope to yield an enormous number of images and languages to become part of a future exhibition in Germany.
German artist Michaela Kirschning's "Blessing Tree" exhibition is also on exhibit in Schillerpalais, and will include photos of the objects contributed to the sculpture of a human form. Residents will comment on the significance of these objects. The Blessing Tree will bring people into conversation about these symbolic statements. This will encourage further inter-cultural and inter-generational dialogue.
Exhibition title: "THE I LOVE YOU PROJECT®"
Location 1: "Schillerpalais" Schillerpromenade 4 Berlin, Germany 12049 Website: http://www.schillerpalais.de
Tel: 49- 030 6272 4670 info(at)schillerpalais(dot)de. Contact: Klaus Eichner.
Location 2: "La Pecora Nera" Herrfurthplatz 6 Berlin, Germany 12049 Website: http://www.pecoraberlin.de
Tel: 49 30 25013346 Contact: Jana Meier Siemon
Festival: 48 Stunden Neukölln Karl-Marx-Strasse 131 Berlin, Germany 12043 Website: http://www.48-stunden-neukoelln.de
Tel. (+49) 030 68 24 78 40 Fax: 030 68 24 78 11 Contact: Oliver Hamann hamann(at)kulturnetzwerk(dot)de
Dates & Times.
Schillerpalais: Videotaping during Friday June 14 7pm-10pm; Saturday June 15 & Sunday June 16 10am-2pm. Exhibition runs from Friday June 14 7pm through Sunday June 16 7pm
La Pecora Nera: Videotaping during Saturday June 15 & Sunday June 16 3:30pm-7pm.
Video will be displayed during these same hours.
Collaborators:
Debbie T. Davies, Visual Artist http://www.theiloveyouproject.net.
Julius Schön, Sound Artist http://www.juliusschönphotography.com
Kendall Smith, Video Editor.
Santina Amato, Video Editor and Video Artist