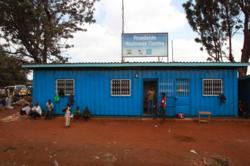 To win this award is a dream come true! North Star Alliance came to us with this human crisis. Fortunately, optimization techniques have many applications so we were able to create this health registration system.
Atlanta, GA (PRWEB) May 16, 2013
WHAT: MEDIA INTERVIEW AVAILABILITY
Once a year GBCHealth convenes business and allied leaders to inspire deepened business engagement on the world's pressing health challenges. Attendees include: Ted Turner, Muhtar Kent, Deepak Chopra, Richard Branson, Annie Lennox, Barbara Bush, Sarah Jessica Parker, and Christy Turlington-Burns. ORTEC developed a system that securely stores, exchanges and monitors patient-specific data across the roadside centers, enabling continuity of care and real-time monitoring of disease trends. In 2012, 29 roadside centers operating in 13 African countries provided over 200,000 individuals with counseling, testing and treatment services for HIV/AIDS, sexually transmitted infections, tuberculosis, malaria and general health needs
WHEN: May 16-17, 2013
WHO: Luke Disney, Executive Director, North Star Alliance
Lambert van der Bruggen, CEO, ORTEC Consulting Group
WHERE: The Roosevelt Hotel, 45 East 45th Street (corner of Madison and 45th)
Interviews also available by phone.
About ORTEC
ORTEC optimization products and people solve complex supply chain problems. Optimizing improves results, quality, performance and morale while reducing carbon footprints by saving fossil fuels. ORTEC software solutions achieve optimal route plans, real-time fleet scheduling and visibility, more efficiently built pallets and fuller truckloads, driving down costs at every point in the supply chain. With North and South American headquarters in Atlanta, GA and global headquarters in The Netherlands, ORTEC has been providing innovative software solutions to Fortune 500 companies for more than 30 years. ORTEC has more than 1,750 customers worldwide, 650 employees and offices in Europe, North and South America, Asia and the Pacific Region. For more information about ORTEC, visit http://www.ortec.com/us.
To join us for our annual conference, OPTIMUS 2013, click here: http://www.ortec.com/Optimus.