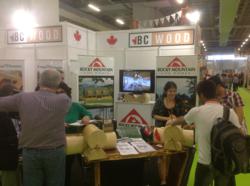 "The international market has come alive for our products because we deliver a long distance building system that is easy to build and performs in all climates naturally,"
Hamilton, MT (PRWEB) May 16, 2013
Rocky Mountain Log Homes representatives traveled to Istanbul to attend TurkeyBuild April 24 to 28 and returned with orders for new homes in Turkey. They also currently have orders for homes in China, Russia, and India. The international orders are a sign of growth for this company and the custom housing industry, Jim Schueler, president of Rocky Mountain Log Homes, said.
"The international market has come alive for our products because we deliver a long distance building system that is easy to build and performs in all climates naturally," Schueler said.
RMLH has an in-house design team and uses computerized and robotized production lines to create precision milled timber and precut every detail of a home prior to assembly to ensure onsite accuracy. The pieces can then be shipped to the build site and assembled to create complete custom homes.
Earlier this year RMLH also participated in the IBS show in Las Vegas, where there was a lot of international interest in their products. Due to the recent company growth, Rocky Mountain Log Homes is currently recruiting distributors in the US and international markets. Interested parties are encouraged to reach out to RMLH.
"Housing in certain regions is booming and we can help provide complete, detailed assistance in the design and building process," Schueler said.
The company offers a wide range of home styles, including automated Swedish-cope, handcrafted, dovetail, log siding, as well as log components and natural accents.
About Rocky Mountain Log Homes
Located in Montana's Bitterroot Valley, Rocky Mountain Log Homes was founded in 1974 in Hamilton, Montana. In addition to their award-winning, precision-milled homes, they also offer a handcrafted series through their partnership with Pioneer Log Homes. Rocky Mountain Log Homes has been the longtime leader in creating meticulously crafted and inspired homes, lodges and other log buildings. From its state-of-the-art precision milling equipment to its recycling practices, the company works hard to have less impact on the environment while contributing to ecological sustainability.