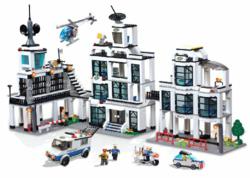 $120 for 783 little LEGO plastic pieces. Really?
(PRWEB) May 16, 2013
Online retailer Playfully Ever After recently added BRICTEK toy building blocks as an affordable alternative to LEGO blocks. BRICTEK blocks are completely compatible with LEGO and save consumers an average of 25%.
In 2011, the 50-year patent owned by LEGO expired. This opened the doors for new competition to manufacture blocks perfectly compatible with LEGO. With more competition, comes better pricing.
"I went shopping last week looking for LEGO'S for my grandson's birthday and almost had a heart attack from sticker shock," said shopper Devora. "They wanted $120 for a 783 piece LEGO Police Station. $120 for 783 little LEGO plastic pieces. Really?"
The similar Police Station set by BRICTEK, with 1,242 pieces, only costs $91.49 at http://www.playfullyeverafter.com. Compared to LEGO at $0.15 per piece, this set is only $0.07 per piece. That's a bargain for identical building block sets.
"I was a little skeptical to try out alternatives to LEGO," said Playfully Ever After owner John Burger. "We had bought a non-LEGO block set for our daughter a few years ago and they did not stay together and lock in place with the original LEGO'S we already had. When we tried out BRICTEK I could not tell the difference. They fit perfectly with LEGO'S and the set instructions were very clear and easy to understand."
Based in Quebec, Canada, BRICTEK is an emerging company looking to fit the niche market of an affordable alternative to LEGO. Currently they have seventeen different collections and dozens of sets within each collection, whether you are looking for boys, girls or adults.
###
Based in North-Texas, Playfully Ever After is an internet toy retailer specializing in educational toys, games, pretend play costumes, and science kits. Established in 2012, they aim to inspire creativity and imagination in children and adults alike, living by the motto "and they all lived Playfully Ever After."