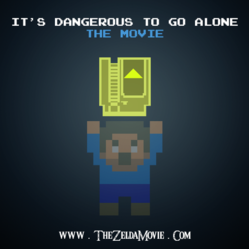 Growing up playing Zelda, we unknowingly shared an experience that now connects us.
Sarasota, FL (PRWEB) May 17, 2013
Sarasota filmmaker, Joe Granato has launched a Kickstarter campaign for "It's Dangerous To Go Alone...The Movie," a documentary that will examine the ubiquity and cultural influence of one of Nintendo's most iconic franchises, The Legend of Zelda. Through its own adventure story narrative, the film will explore the works of a generation of artists whose first impetus for creativity was found while saving Zelda's fantasy world of Hyrule.
Keeping true to the spirit of the series, the filmmaker has announced that one method of distribution for the film will be in game form. On the project's Kickstarter, a video shows an early draft of a unique adventure game being played on an iPad. The evolution of this will become a full game where a player will navigate a fantastic world in search of segments of the documentary, bonus material, and behind the scenes footage. For those looking for a more linear method of viewing, traditional distribution is also planned.
The film's website, http://www.TheZeldaMovie.com, is also a homage to the 8-bit era of gaming and the original NES Zelda game. The site's method of navigation is its own pixelated adventure, which features some of the film's interviewees as NPC helpers. By beating the web game, the player is rewarded with a two-minute look at coverage of the Symphony of the Goddesses (a four movement symphony based on Zelda music) concert in Miami, FL.
To support the film, please visit:
It's Dangerous To Go Alone...The Movie's Kickstarter
For additional information, please visit: http://www.TheZeldaMovie.com.