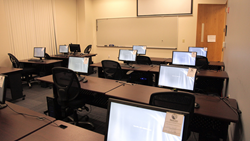 NetCom Learning classrooms are the perfect solution for a company looking for an already set up training space in a convenient location
New York, NY (PRWEB) May 17, 2013
NetCom Learning has turnkey classrooms complete with a computer setup available for rent in New York City. For corporations and organizations looking for a good location for a training class or seminar, NetCom Learning has a convenient training space solution available. Training rooms include a simple six-person size classroom rental to a turnkey training solution that will accommodate thirty students. The classrooms are spacious, private, comfortable and quiet, perfect for training purposes.
"NetCom Learning classrooms are the perfect solution for a company looking for an already set up training space in a convenient location," said Russell Sarder, CEO of NetCom Learning.
The NetCom Learning classrooms are an efficient and affordable alternative to renting additional computers and lab space to set up a temporary training space. NetCom Learning provides a time effective choice in computer classrooms and meeting rooms already setup with the latest in high tech equipment including presentation solutions and computers and modern comfortable seating arrangements. By renting training space with NetCom Learning, a company saves time and money by not having to spend a lot of time renting the right equipment and finding a location that is equipped to handle the setup and provide comfortable quiet training space. By renting training space with NetCom Learning, time can be used more efficiently on the presentation and training event itself.
When you rent a training space you will have access to onsite technical support staff that is available seven days a week, a live online environment and state of the art technology solutions. It is possible to pre-ship your materials for your training event and staff is available to preload your software and prepare a custom setup if necessary. If requested NetCom Learning can provide speaker podiums, microphones, IP-based telephone system, TV, VCR, networked printers, office supplies, high speed photocopier service, fax machine available, laptop rental service, hi-definition webcams, live online environment, instructors and speakers and the use of an event coordinator.
In the New York City location NetCom Learning offers seven seminar classroom style rooms. The facility is located in the heart of midtown Manhattan and across the street from the Empire State Building. The seven custom designed state of the art classrooms have seven days a week availability, and a friendly client focused staff is available if desired. Complimentary coffee, tea, bottled water and snacks are available during the day and there are easy options for breakfast, lunch or dinner. The location offers easy access to transportation at nearby Penn Station.
NetCom Learning Headquarters is located at 20 West 33rd Street, 4th floor in New York City. Staff is available to discuss rentals from 9:00 AM to 7:00 PM, Monday through Friday. Contacts us at 888-563-8266 or at info(at)netcomlearning(dot)com for more information on how to rent a training space In New York City.
NetCom Learning also offers rental spaces in Arlington, Virginia, and Las Vegas, Nevada. To learn more about NetCom Learning classroom rentals, visit http://classrentals.netcomlearning.com/.
About NetCom Learning
NetCom Learning is an innovative leader in IT, business and executive training to companies, individuals, and government agencies. Since its inception in 1998, NetCom Learning has trained over 80 percent of the Fortune 100, serviced over 45,500 business customers, and advanced the skills of more than 71,000 professionals through hands-on, expert-led training, with the organization maintaining an average instructor evaluation score of 8.6 out of 9. NetCom Learning was recognized by Microsoft Corporation as its Worldwide Training Partner of the Year and named twice to Inc. Magazine's list of fastest growing private companies in America. The organization was also recently named to the 2012 Top 20 IT Training Companies Watch List by TrainingIndustry.com and was named "Company of the Year" by the American Business Awards.
The purpose of NetCom Learning is to promote the values of lifelong learning.