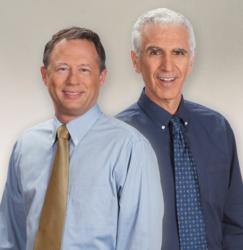 Teacher evaluation systems are evolving to focus on providing the tools and resources to develop and support teacher expertise.
Palm Beach Gardens, Florida (PRWEB) May 17, 2013
A groundbreaking book in education reform from ASCD hits the shelves on June 5th: Teacher Evaluation that Makes a Difference: A New Model for Teacher Growth and Student Achievement, co-written by renowned education researcher Robert J. Marzano and Learning Sciences International CEO Michael D. Toth.
Marzano and Toth argue in this forward-looking analysis that teacher evaluation systems are evolving to focus on providing the tools and resources to develop and support teacher expertise, rather than simply measuring teacher performance. The authors address recent criticisms of value-added measures of student achievement and offer elegant solutions to the current controversy over fair and accurate teacher evaluations.
Citing recent commentary, research studies, and federal impetus for reform, Toth and Marzano place evaluation reform in context. They address the drawbacks to teacher evaluation systems that rely on value-added models and advocate instead for multiple measures of teacher competencies. Using these multiple measures, they argue, ensures that every teacher evaluation, including evaluations of educators who teach subjects not covered by state standardized tests, incorporates fair, meaningful, and reliable student data.
In addition to these multiple measures of assessment, "next-generation teacher evaluation models" build on the concept of hierarchical evaluation, in which district leaders, school leaders, teachers, and non-classroom personnel are evaluated by aligned models that create a common language of instruction and a commitment to increased student achievement. Finally, the authors offer a roadmap for planning and implementing effective evaluation systems.
This roadmap leads to a future of evaluation that promises increased reliability, more precise observation, and teacher growth as an evaluation metric. Taken together, these breakthroughs create a powerful engine for improving teacher expertise. School districts may now achieve measurable, annual increases in teachers' skills and expertise, as well as corresponding gains in student learning.
Learning Sciences Marzano Center for Teacher and Leader Evaluation, located in Palm Beach Gardens, Florida, promotes excellence in public education by providing and developing next-generation teacher and leadership evaluation tools and training. Built on a foundation of expert research into best practices in partnership with national researcher and author Dr. Robert Marzano, the Center identifies, develops, and disseminates cutting-edge resources in educational best practices. The goal is to support teachers to be highly effective, lifelong learners, and in doing so, to significantly impact student growth and achievement over time.