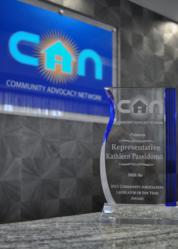 "This year saw some very positive changes for all types of associations," said Donna DiMaggio Berger, Executive Director of CAN.
Margate, FL (PRWEB) May 21, 2013
2013 was one of the busiest Legislative Sessions in memory in terms of the number of bills impacting Florida's significant community association population. The Community Advocacy Network (CAN) was fortunate to work with a number of state legislators to draft, modify and ultimately help pass these bills. On Friday, June 14th, CAN will once again host its annual Legislative Town Hall Meeting, providing a convenient forum for CAN members and the general public to discuss the latest developments in community association laws with the legislators who sponsored and championed many of these bills.
The popular annual event draws community association residents, managers and legislators from around the State. CAN will also be releasing its 2013 Legislative Guidebook as the latest in its free Law and Learning Center Guidebook series the day of the event.
"This year saw some very positive changes for all types of associations," said Donna DiMaggio Berger, Executive Director of CAN. "We were fortunate to provide additional time for communities with elevators to pay for costly Phase II Firefighter upgrades. We also addressed an inequity that resulted from a recent Third DCA case by clarifying that an HOA that forecloses on a delinquent property is not to be monetarily punished for doing so.There were dozens of changes to the shared ownership and other statutes that we now need to discuss and implement by their July 1st effective dates."
In addition to lunch and a panel discussion, CAN will also be presenting one Representative with its Legislator of the Year Award.
"Our CAN Advisory Council selects the State Senator or State Representative who has done the most in that particular Session to benefit community association members," said Julie Fishman, CAN's Governmental Affairs Liaison. "We are pleased to announce that this year's recipient is Representative Kathleen Passidomo of Naples."
"Representative Passidomo sponsored legislation for the third year in a row which would help struggling associations speed up lagging bank foreclosures. Her sheer determination to overcome all obstacles resulted in the passage of HB 87 which created the Fair Foreclosure Act. We commend her for her refusal to ignore the need for foreclosure reform in our state," said Ms. Berger.
CAN will be hosting its Annual Legislative Town Hall on Friday, June 14 from Noon to 3:00 p.m. at the Katzman Garfinkel& Berger Law and Learning Center located at 5297 West Copans Road, Margate FL, 33063. A complimentary lunch will be provided from Noon to 1:00 pm with the panel discussion and awards presentation thereafter.To RSVP for this free event, please call 954-213-0979 or RSVP via email by contacting Julie Fishman at jfishman(at)canfl(dot)com.
*********************
About the Community Advocacy Network(CAN):
The Community Advocacy Network (CAN) was created in 2007 by the law firm of Katzman Garfinkel & Berger. Since its inception, CAN has advocated on behalf of all types of shared ownership communities who wish to ensure that their unique needs are heard and understood by Florida's public policy makers. In addition to assisting its members through targeted advocacy campaigns at all levels of government, CAN works throughout the year, gathering and distributing information that is vital to effective community operations throughout Florida.