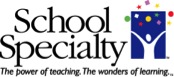 "This year's honorees are truly remarkable," said Steve Boyea, Vice President Product Development. "They all demonstrated exemplary curriculum innovation and execution..."
Greenville, WI (PRWEB) May 16, 2013
In conjunction with Teacher Appreciation Month, School Specialty, Inc. (OTCQB:SCHSQ), a leading K-12 education company with the broadest array of products in the education market, honors the 2013 National Physical Education Teachers of the Year (TOY). Sponsored exclusively by School Specialty brand Sportime and the National Association for Sport and Physical Education (NASPE) since the award's inception in 1989, the Teachers of the Year program recognizes outstanding teaching performance and the ability to motivate today's youth to participate in a lifetime of physical activity.
The national award winners are:

Elementary School Teacher of the Year: Patty Kestell, Thorson Elementary School, Wisconsin
Middle School Teacher of the Year: Jason Busche, Anthony Elementary/Middle School, Kansas
High School Teacher of the Year: Charla Tedder-Parker, Fuquay-Varina High School, North Carolina
"This year's honorees are truly remarkable," said Steve Boyea, Vice President Product Development. "They all demonstrated exemplary curriculum innovation and execution, and offered a fresh perspective for getting students engaged in physical activities both in and outside of a school setting. Setting students up for present and future success is integral, and these educators did just that."
Once the submissions are received, the entire pool of candidates is narrowed down to six regional winners for each regional education district—elementary, middle and high school. From there, each district chooses one national winner from its six regional winners.
The district finalists for Teacher of the Year include: Sue Wright, Summit Elementary School, Colorado; Jeffery Jacobs, Worcester Elementary School, Pennsylvania; Susan Sellers, Lynnwood Elementary School, Washington; Sarah Lowell, Cartoogechaye Elementary School, North Carolina; Mary Lou Baranowski, Lindbergh Schweitzer Elementary School, California; Susan Toth, Tenafly Middle School, New Jersey; Andrea McMurtey, Fishers Junior High School, Indiana; Erik Jokinen, Langley Middle School, Washington; Jason Broussard, Iberia Middle School, Louisiana; Reid Anderson, Clayton Middle School, Utah; Taralyn Garner, Park Hill High School, Missouri; Joanna Bailey, D.C. Everest Senior High School, Wisconsin; Lisa Kloke, Mark Morris High School, Washington; Amber Hall, Maple Mountain High School, Utah.
Additionally, the National Dance Alliance (NDA) and American Association for Physical Activity and Recreation (AAPAR) honor educators in their fields with a Teacher of the Year award. The NDA chose Stacy Shane, Boulder Creek High School, Arizona, and AAPAR's winner for Adapted Physical Education is Brad Weiner, Prince Georges' County Public High School, Maryland.
About School Specialty, Inc.
School Specialty is a leading education company that provides innovative and proprietary products, programs and services to help educators engage and inspire students of all ages and abilities to learn. The company designs, develops, and provides preK-12 educators with the latest and very best curriculum, supplemental learning resources, and school supplies. Working in collaboration with educators, School Specialty reaches beyond the scope of textbooks to help teachers, guidance counselors and school administrators ensure that every student reaches his or her full potential. For more information, visit http://www.schoolspecialty.com.