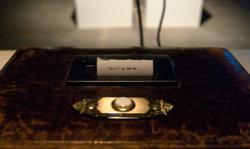 New York, NY (PRWEB) May 16, 2013
**Download hi-res images at:http://imgur.com/a/0ujBA
A mechanical fortune teller that spouts cryptic tweets, a collaborative online paint canvas, webcam stars posed as iconic artworks, and other works will enliven Internet Week New York Headquarters at Chelsea's Metropolitan Pavilion as part of an interactive art group show curated by Eyebeam Art + Technology Center.
From May 20th to 23rd, "Fast Connection Search: Recent Works from Eyebeam" will offer a whimsical, provocative take on how technology is revolutionizing the nature of social relationships faster than society can fully comprehend. In Webcam Venus, webcam stars recreate poses from iconic paintings like Da Vinci's Mona Lisa and Botticelli's Venus. Other works, including #Fortune and persecuting.us, re-envision Twitter, one using it as a source of anonymous wisdom, the other to highlight political polarization. Other works explore digital anonymity, the collaborative process, and the possible dystopia that could emerge from our corporatized, commercialized culture.
The group show is curated by Eyebeam, a nonprofit incubator that has been bringing artists and creative technologists together since 1997 to address the cultural impact of technology. It will be open daily from May 20th to May 23rd from 9AM to 6PM at Internet Week New York Headquarters.
Now in its sixth year, Internet Week New York has become one of the world's top digital festivals, cementing New York City's status as a global hub where technology, business, and culture meet. Over the course of the week, more than 45,000 people are expected to attend over 400 panels, Meetups, exhibits, screenings, parties, and more taking place at Internet Week New York HQ and other venues across the city. Passes to Internet Week New York Headquarters start at $135.00 and can be purchased at http://www.internetweekny.com/orders.
"Eyebeam has long been a breeding ground for artists who challenge our preconceptions about the role of technology in our lives, culture, and society," said Caroline Waxler, Festival Director of Internet Week New York. "We're thrilled to be partnering with Eyebeam on this timely and exciting exhibition."
Eyebeam Executive Director Patricia Jones described the partnership as thought-provoking, and particularly of-the-moment. "This is a great period in New York's culture — never before has the intersection of technology, art, and design been so keenly felt, and the overlaps so fresh and innovative. We're delighted to be participating with Internet week and bringing the work of our artists to a particularly receptive and appropriate audience."
The works featured in "Fast Connection Search: Recent Works from Eyebeam" include:

Addie Wagenknecht and Pablo Garcia, Webcam Venus, 2013
Single channel video and oil paintings
In Webcam Venus, online sexcam workers replicate iconic works of art, creating a homage to both fine art and lowbrow internet phenomena. Artists Wagenknecht and Garcia created the piece by searching sexcam chatrooms and asking participants to pose as famous subjects, from Da Vinci's Mona Lisa to Botticelli's Venus. The results are displayed on a large monitor, along with video stills that have been transformed into contemporary oil paintings.
Paolo Cirio, persecuting.us, 2012
Website and audio installation
Persecuting.us scrapes data from hundreds of thousands of Twitter feeds and sorts users by political affiliation. The piece analyzes tweets and keywords and then assigns each user to one of two categories, Republican or Democrat -- the evidence for which is broadcast on a monitor, with audio of a robotic voice reading their transcripts.
Sarah Grant, HOT PROBS, 2012
Hanging sign and sculpture
HOT PROBS is a social application – embedded in a small sculpture -- that enables people in the immediate area to chat anonymously. It is part of a suite of applications developed for the Subnodes platform, an open source initiative that enables people to easily set up a Raspberry Pi as a portable local area network access point for facilitating anonymous interactions within your immediate vicinity.
Jonas Lund, The Paintshop.biz, 2012
Website and prints on canvas
Paintshop is a real-time collaborative painting tool that lets multiple people create and produce unique digital canvases. Each painter watches their work unfold onscreen as other anonymous contributors edit and, if they choose, sign and sell the work in an online gallery. Sold works can be printed on a 40x50cm canvas, rendering the digital doodles as tangible, commercial objects.
Zach Gage, #Fortune, 2013
Sculpture with custom software and hardware (including arduino, phptwittersearch, and libraries/hardware from ladyada)
A palm-reader for the digital age, #Fortune spits out wisdom and mantras culled from Twitter. Viewers press a button on the piece, upon which enigmatic, one-line aphorisms, as vague as a Ouija board, emerge. Viewers are encouraged to take their fortunes with them, as physical mementos of their experience.
Katie Torn, The Calm Before the Storm, 2012
Single channel video
The Calm Before the Storm is a video installation created with advanced digital 3D animation tools. The visuals and storyline are centered on a hyper-realistic, dystopian landscape of commercialism, destruction, and vanity. Atop a wasteland of detritus, a corporate structure ominously rises, its pinnacle a robotic female head that symbolizes the toxicity of contemporary culture.
About Eyebeam
Eyebeam supports and promotes dynamic and risk-taking work at the intersection of art and technology. We provide residencies and fellowships for interdisciplinary artists, hackers, curators, and technologists who are addressing the issues and concerns of our time. As producer of a diverse output of exhibitions, panels, workshops, performances, and events, Eyebeam seeks to provide an environment for dialogue and collaboration, as well as a fertile context for discovery among its artists and the general public.
About Internet Week New York
Launched in 2008 in cooperation with the New York Mayor's Office of Media and Entertainment, Internet Week NY is a week-long festival celebrating Internet business and culture. In 2012, over 250 events took place throughout the city, drawing nearly 40,000 attendees. Sponsors of Internet Week New York 2013 include: Premier Sponsors Google and AT&T Adworks, and Official Sponsors Vitamin T, Aereo, Sailthru, Buzzfeed (Premier Media Partner), MediaCom (Official Livestream Sponsor), Battelle Media, Criteo, Modern Healthcare, Meredith, Tekserve (Official Technology Sponsor) and UK Trade and Investment (Start-Up City Presenting Sponsor) and EisnerAmper (Content Sponsor). Partners include: The New York City Mayor's Office of Media and Entertainment, The Webby Awards, VICE, Advertising Age, BtoB, Creativity, Crain's Detroit Business, Crain's New York Business, Modern Healthcare, Nielsen (Official Research Partner), Eyebeam Art and Technology Center (Official Arts Partner), Design Within Reach (Official Design Partner) , Mother , PKPR (Official PR Partner), Sound Ctrl (Music Tech Day Content Partner) , Vault49 (Official Creative Partner), GrandLife's Soho & Tribeca Grand Hotels (Official Hotel Partners), General Assembly (Official Education Partner), Motherboard (Classroom Partner), Slalom Consulting. Media Partners include: The New York Times (Official News Partner), CBS Interactive, Advertising Age, Flavorpill, Financial Times, and Refinery29.