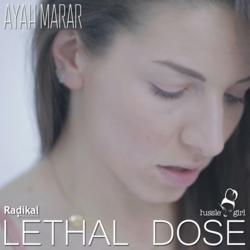 Teaneck, NJ (PRWEB) May 17, 2013
The beautiful and artistic Ms. Marar has taken us on an eventful journey over the last few months releasing hit after hit from her debut album "The Real." Lethal Dose is Ayah's 6th single from her debut album to come out on her imprint Hussle Girl in the UK, but merely the 2nd single made available to US and Canada fans via Radikal Records. With Radikal planning the full unveiling of "The Real" in North America for July 9th, "Lethal Dose" is another tastey morsel to wet the appetite of hungry EDM fans who are just beginning to get to know Ayah.
"The Real" has already received championing support from Q Magazine who gave it four stars. Dazed Digital, Vibe, Mixmag, Timeout and The Sun have all labeled Ayah the "Queen Of Bass."
Following on from her club ready record "Go Hard," "Lethal Dose" dives deep into the darkness of desire and obsession and addresses the effects of emotional and physical addiction. The video for "Lethal Dose" displays a stripped back version of Ayah, and we're invited in to a more sensitive and vulnerable side of the songstress that we haven't seen before. Filmed within the warehouses where Ayah is now living, Ayah says, "The making of the video really brought us together as a creative family and community, and touched on the phenomenon that is warehouse life."
Ayah has been extremely busy this year since signing a deal with US record label, Radikal Records. As well as running her own label, Ayah also finds time to tour the world and host her own monthly radio show on BBC Radio 1xtra. With everything shifting around her, Ayah can always count on one thing remaining constant and that's her close connection with long-standing friend Calvin Harris. After Ayah released the video for "Lethal Dose" this week, Calvin took to Twitter to show his support by saying, "Amazing work from one of my best friends."
With a jammed pack festival season and back-to-back tour diary Ayah continues to live out her legacy as the "Queen Of Bass." The single package for "Lethal Dose" is available now in the US and Canada on iTunes and includes an incredible remix track from French producer, Dilemn.