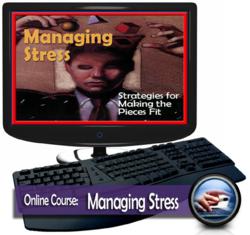 Rather than finding ways to treat the effects of stress, experts believe that it is better to focus on the root of the problem through understanding the situations that trigger stress in the first place.
Boardman, Ohio (PRWEB) May 21, 2013
Recent data from the American Medical Association estimates that 43% adults have experienced negative effects on their health due to stress. The AMA similarly believe that the impact of stress is much more significant than many people realize, attributing 75% to 90% of all doctor's visits to stress-related illnesses.
Stress is something that many Americans accept as a normal part of daily life. Unfortunately, left untreated stress can cause a great many ill-effects on a person's physical and emotional well-being. Serious medical conditions such as hypertension, chronic headache, depression, anxiety, asthma, diabetes, heart problems, stomach pain, and skin conditions are in many cases a direct product of excessive stress.
Currently, there are quite a few treatment options for individuals suffering from extreme chronic stress. Exercise, meditation, changes in diet, yoga, are all commonly suggested stress management techniques. Yet because individual physical and emotional responses to stress are so varied, blanket solutions like these are rarely effective for everyone. Rather than finding ways to treat the effects of stress, experts believe that it is better to focus on the root of the problem through understanding the situations that trigger stress in the first place.
Just as individual reactions to stress are so different, stress triggers also vary widely from person to person. Recent research from PeopleKeys shows that the most successful way to determine an individual's unique stress triggers is through an understanding of personality type. To that end, PeopleKeys recently announced the launch of their personality-based DISC Managing Stress Course.
The DISC Managing Stress Course can be taken online in under two hours, and provides powerful diagnostic tools for identifying a person's personality type, levels of stress, and stress triggers. The DISC Stress Management Course begins with a comprehensive personality test designed to identify the personality type of the test-taker. Once personality type has been determined, the Stress Management Couse provides insight into the ways that stress affects behavior, and provides clear and effective personality-driven strategies for preventing and managing stress. This is done with a personal stress evaluation, which allows participants to chart stress levels in ten key areas related to stress.
The course is interactive, and gages progress through short quizzes. As a preventative stress-management tool, the Managing Stress Course helps participants:

Identify common stressors based on personality type
Pinpoint individual stress triggers
Debunk facts and myths about stress
Increase understanding of the "fight or flight" response
Recognize physical and emotional symptoms of stress
Understand the difference between work mode and relaxation mode
Assess, plan, implement, and maintain a plan for chronic stress prevention
Recognize common stress signals
Achieve and maintain a healthy balance in life
You can't change your personality in order to reduce stress, but you can learn to anticipate and manage the situations that trigger feelings of excessive stress. This takes careful self-analysis. No personality is immune to the effects of stress, but awareness is 90% of the solution.
For more information on DISC and the personality-based DISC Managing Stress Course, please contact PeopleKeys.
About PeopleKeys
PeopleKeys has been providing tools to measure the connection between personality and human behavior for over 30 years. PeopleKeys believes that an understanding of human behavior can be used to improve relationships, streamline productivity, resolve conflict, and reduce stress. For more information about PeopleKeys and their DISC solutions, please contact Marketing Manager Kaitlyn Miller at 330-599-5580 x113.
###