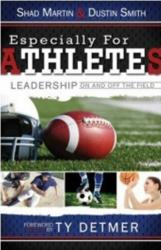 (PRWEB) May 16, 2013
Especially for Athletes ("E4A") is a movement specifically designed to inspire athletes and those with whom they associate, to maximize their athletic potential and to use their talents and social influence to assist and lift others. E4A is seeking to build a culture of athletes focused on changing lives through better use of the attention and influence they have access to.
All people experience different levels of attention during their lives and moments when their actions have greater reach and potential for influence. For athletes, that attention is often times magnified, which brings about an even greater responsibility and opportunity. E4A refers to that extra level of attention as the Sport Light. For most athletes, that special opportunity and magnified attention may only last a couple of years; however, long after their playing days are over they will be remembered for what they represented while on that stage and under the Sport Light. Those actions, good or bad, will live with them and those they affected forever.
Athletes who participate in the E4A programs will commit to not only preparing and competing to be their very best in their sport, but also to a daily focus towards changing the lives of those they associate with for good. They will understand that it is more than just a game and they will change the world.
A book that was written on this program, called "Especially for Athletes Leadership on and off the Field," is now available at Deseret Book http://deseretbook.com/Especially-Athletes-Leadership-Off-Field-Shad-Martin/i/5109098 and Amazon http://www.amazon.com/Especially-Athletes-Leadership-Off-Field/dp/1462112013. You can visit their website for the latest on leadership events near you at http://www.especiallyforathletes.com.