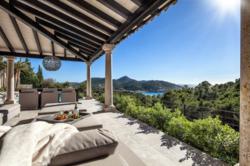 the Balearic and Canary Islands are the only regions in Spain where house prices went up in April over the previous year – an increase of 3.3%
Palma de Mallorca, Balearics, Spain (PRWEB UK) 18 May 2013
Valuation company Tinsa has reported that the Balearic and Canary Islands are the only regions in Spain where house prices went up in April over the previous year – an increase of 3.3% versus an average 10.5% decline for the rest of the country. This corroborates earlier predictions from Balearics Sotheby's International Realty.
Daniel Chavarria Waschke, Managing Director of Balearics Sotheby's International Realty with offices in Mallorca and Ibiza, says, "This is consistent with the market predictions we posted in January this year when we stated that we had started 2013 with a real sense of positivity. We made reference to the fact that Ibiza had its recovery in 2012, way ahead of the mainland, and was already 'booming out' again. Meanwhile we said that demand for holiday homes in Mallorca had remained high throughout the 'crisis' largely due to the mix of nationalities involved, with more than 80% of buyers non-Spanish. We believed that at the top end, the worst was over for Mallorca and recovery would accelerate in 2013. Our crystal ball appears to be spot on with April's 3.3% house price increase reflecting that recovery. Long may it continue."
Spain has had a rather tumultuous few years with Tinsa calculating overall house price falls at 37.2% from peak values in December 2007 when the bubble burst. The mainland Mediterranean coastline is home to the highest falls at 45.1% and the capital and major cities with populations greater than 50,000 next at 40.4%. The Balearic and Canary Islands prop up the table with falls of 'just' 24.5% from the peak, with a positive turnaround now on the cards. Spain cannot be judged as a whole, but the sum of its parts.
Daniel continues, "Not only is it unfair to judge Spain as a whole, Mallorca and Ibiza enjoy very different qualities to the mainland, but it is also important to consider that Tinsa values all properties for sale, and that includes small apartments with no views or homes in less exclusive areas of the Islands. Our business focuses entirely on the luxury end of the market and I suspect if we were to carry out the same exercise, the 'peak to bottom' price falls would come out a lot lower than Tinsa's across the board 24.5%."
Market recovery may well be accelerated by Prime Minister Mariano Rajoy's statement of intent to offer indefinite residency to foreigners purchasing a home priced in excess of 500,000 euros, significantly higher than the 160,000 euros first suggested back in November 2012. A more detailed draft of the proposal is expected by the summer but there has already been strong interest from China and Russia, nations keen to access one of Spain's millions of empty homes in return for lucrative residence.
This 500,000 euro threshold plays into Sotheby's International Realty's hands as in Mallorca, the Company focuses exclusively on villas priced above two million euros and apartments above half a million euros, whilst in Ibiza the bar is set at villas above one and a half million euros and apartments above one million. However Daniel is unconvinced that the floodgates will open.
Daniel continues, "Each day there is a new rumour about some such law or another. Whether the 160,000 euro threshold moves up to 500,000 euros or not, I cannot confirm, as it is still a Government proposal and not a fait accompli. As and when the situation arises our lawyers will advise case by case. In Mallorca and Ibiza we do not have too many buyers from outside the EU and I would be surprised, if this new measure becomes law, if we suddenly start attracting many buyers from outside our usual target audience."
On the Market in the Balearics:
Ref 6194 – Villa, Vista Alegre, San Jose, Ibiza
An impressive modern design villa with sea views set in the secure gated community of Vista Alegre. The handiwork of renowned architect Miguel Arenas, the house has been purposefully proportioned to offer a double height living area - perfect for displaying the household's magnificent collection of artwork, sculpture and furniture. The remainder of the property is distributed around this central gallery with the grand bedroom suites all bathed in natural light courtesy of floor-to-ceiling glass. Outside the villa boasts an enormous swimming pool surrounded by sweeping lawns, an outdoor kitchen and plenty of open and covered terracing that blurs outside to inside. Additional features include underfloor heating throughout, intelligent domestic electrics, a music system, electric gates and alarm. Established in 1968, Vista Alegre is gated, has automatic car registration plate recognition and offers privacy, generous plot sizes and phenomenal sea views across to Formentera island.
Built area 680m², Plot size 2,780m²
Six Bedrooms, Seven Bathrooms
Price 4.5 million euros (approx 3.82 million GBP)
Contact Ibiza Sotheby's International Realty on email ibiza(at)ibizasir(dot)com telephone 00 34 971 310 799 or visit http://www.ibiza-sothebysrealty.com.
Ref 6187 – Villa, Port Andratx, Mallorca
Exquisite villa, completely refurbished in 2012, with spectacular views of the sea and the harbourside of Port Andratx. Located in a quiet cul-de-sac in the prestigious residential area of Monport, this home borders a green zone and offers privacy and luxury in abundance. Divided into two parts with two independent interior staircases, one for the main home and the other for the guest area, the villa would suit two families or one that loves to entertain. The guest accommodation even benefits from its own living-dining room with kitchenette and outside an 8m x 3m private pool alongside several terraces. Meanwhile the main home, with more than 200m² of chill out terraces and an outdoor kitchen, has a further 14m x 5m swimming pool with incredible sea views. The villa is ready to move into, completely furnished and equipped, whilst a lift and double garage complete the scene.
Built area 600m², Plot size 2,500m²
Six bedrooms, Six Bathrooms
Price 7.45 million euros (approx 6.33 million GBP)
Photos: Marco Richter
Contact Mallorca Sotheby's International Realty on 00 34 971 674 807, email mallorca(at)mallorcasir(dot)com or visit http://www.mallorca-sothebysrealty.com
-ends-
For further press information or photography please contact Sarah Drane on sarah(at)purplecakefactory(dot)com or call 00 34 607 564 726.