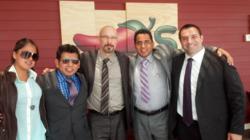 Mexico is a growing market, and we feel our partnership can be extremely successful.
Alpharetta, GA (PRWEB) May 20, 2013
SOMAX, Inc. has announced that they have reached a partnership agreement with Dragons De Vera Cruz, a leading supplier of American and European products and services in Mexico. The agreement allows Dragons De Vera Cruz to sell and support SOMAX's world class, cloud-based and on-site CMMS and EAM solutions in Mexico.
"We are very pleased to add Dragons De Vera Cruz as our official Value Added Reseller in Mexico," said Jay Wright, VP of Sales and Marketing at SOMAX. "Mexico is a growing market, and we feel our partnership can be extremely successful."
According to the World Bank, Mexico is an economy on the rise. With estimated growth approaching four percent over the next several years, and an emphasis on manufacturing and technology, Mexican, and foreign, businesses will require advanced tools to ensure that efficiency is continuously maximized.
"In Mexico City you see large buildings constantly being constructed in the business districts, you hear about all the manufacturing taking place within the country and you get excited," added Wright. "It's definitely a market we are invested in, and we know that with SOMAX we can help these business maintain and manage all of these new assets effectively."
Specializing in several industries including the nuclear power and Mexican public industries, Dragons De Vera Cruz provides consultancy, training, remediation and support for foreign businesses, as well as providing applied engineering services. The company believes that applying effective new technologies is a key to maintaining the strong growth phase that Mexico is currently, and will continue to experience, in the future.
"We see the opportunity to use new technologies like SOMAX every day in Mexico," states Jose Hernandez, Director of International Affairs for Dragons De Vera Cruz. "Our experience in the nuclear and government industries will be vital in our success, we understand the process and procedures that companies need to maintain and manage important assets, and our team is prepared to deliver excellent service for each client."
SOMAX is based in Alpharetta, Georgia, was founded in 1988. The company was founded on the idea of utilizing its more than twenty years of information management experience in engineering management, maintenance and purchasing systems to create an the most advanced maintenance, inventory and purchasing management program. The founders took advantage of their experience in worldwide application in power industry, automobile manufacturing, military systems, chemical process and the pharmaceuticals to create our product which carries the same name as the company, SOMAX.
Read more at http://www.somax.com, or connect directly with a SOMAX representative at 1-800-673-0961 or by email at info(at)somax(dot)com.