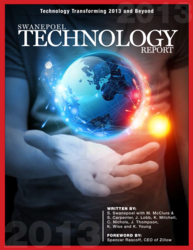 "The rate of growth of technology is dizzying!"
-Spencer Rascoff, CEO Zillow
Orange County, CA (PRWEB) May 20, 2013
"The rate of growth of technology is dizzying and makes it very challenging for real estate professionals to excel at their craft," says Spencer Rascoff, CEO of Zillow. Bestselling author and real estate expert Stefan Swanepoel agrees, adding that "real estate brokers and agents are straining under the volume and speed of innovation, despite generally being prolific website and mobile phone users."
"It is very overwhelming to provide top shelf customer service given how quickly technology is changing home-buying consumer behavior," Swanepoel says. And he should know as he has penned 24 books and reports since 1997 on the subject of trends, change and strategies shaping the real estate industry.
Known as the bible of real estate, his Swanepoel TRENDS Report (in its 8th edition since 2006) has accurately outlined and detailed numerous shifts involving mergers and acquisitions, professionalism and licensing, MLS and the sharing of listings, the transparency of data and the growth of real estate portals. This year they added another valuable tool for real estate professionals by creating a second annual report – one that concentrates exclusively on technology solutions, services and innovations that can be used in the home buying and selling process.
The new Swanepoel TECHNOLOGY Report (RealSure, Inc.; 164 pages; softcover; May 17, 2013) brings together a cadre of nationally recognized specialists renowned for using certain technologies such as: Twitter doyen Michael McClure (CEO of Verified Agent); Kelly Mitchell host of Agent Caffeine, a popular weekly podcast; one of the most widely read bloggers in real estate Jay Thompson (director of Social Media for Zillow); Krisstina Wise, founder and CEO of The Goodlife team and Inman News Most Innovative Brokerage in 2011; digital foot print specialist Sean Carpenter (Coldwell Banker agent and one of Inman News Top 100 Most Influential Leaders); mobile expert Jeff Lobb (EXIT Realty executive and one of Inman News Top 100 Most Influential Leaders); Klout expert Chris Nichols (Broker manager with Prudential Utah Elite and one of Inman News Top 100 Most Influential Leaders); and Kendyl Young the Technology Visionary at Tele Properties (and also one of Inman News Top 100 Most Influential Leaders in Real Estate).
These nine people have their respective fingers on the pulse of all aspects of technology and use it extensively in the real estate business. For example, in the aggregate these nine doyens have over 200,000 followers on Twitter and have also tweeted more than 200,000 times. And in the new Report they now share their secrets and shortcuts as well as the actual steps REALTORS® need to take to use technology more effectively in the home buying and selling process. Some of the 10 chapters in the 164-page Report include:

How To Better Serve The New Home Buying And Selling Consumer
The Secret To Maximizing Your Listings And Internet Presence
How To Manage Your Digital Footprint And Become A Major Influencer Online
Gaining Access To The Ultimate Digital Organization System
How To Become A Superb Paperless Agent
This is the first 100% real estate specific, hands-on, practical guide written exclusively for REALTORS®. "The Swanepoel TECHNOLOGY Report" is the go-to source for any real estate professional," says Lisa Archer and Laurie Davies, top producing agents for Keller Williams Realty International and also, widely known as the Geeky Girls.
The real estate industry has become a huge repository of data and numerous large companies such as Google, AOL, Zillow and even Amazon are exploring ways to better serve the $50+ billion real estate brokerage industry. REALTORS® still play an integral part in the home buying and selling transaction but staying current and skilled with the latest technology will be a vital strategy in their future survival and success.
For more information visit RETrends.com.