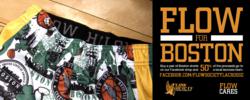 New York, NY (PRWEB) May 17, 2013
Flow Society, a national sportswear brand, has developed a new charity division for their brand. Flow Cares, Flow Society's Charitable arm, is dedicated to supporting the communities they serve and sharing the sports they love with athletes near and far.
Like their unique brand, they are committed to providing unparalleled development opportunities for the youth. Flow Society promotes happy, healthy and active lives. Through Flow Cares initiatives, the company will be able to further this lifestyle by aiding athletic programs worldwide.
The staff and executives at Flow Society have been deeply inspired by the resilience and strong sense of community the people of Boston have shown throughout the tragedy that gripped their city recently. As the whole country has rallied around the city, Flow Cares, Flow Society's Charitable arm, would like to contribute as well. Our 'Boston' shorts design has become a favorite among athletes all over the country. Now when customers purchase these shorts from the Flow Society Facebook page, 50% of the proceeds will go directly to MetroLacrosse, a Boston area non-profit that provides more than 700 urban youth athletic, academic, and social enrichment through the sport of lacrosse. Donations will aid Metro Lacrosse in providing the best environment for children to learn and play lacrosse. Please help Flow Society support the great city of Boston and enrich the lives of our youth.
"Since its founding, Flow Society has been supporting lacrosse programs and communities around the country. Through Flow Cares, we will now be able to expand Flow Society's charitable work to an even greater extent," said Flow Society Marketing Coordinator. "Most importantly, it will enable us to connect with more groups and individuals to spread the sport of lacrosse and the ideals and focus active lifestyles embody."