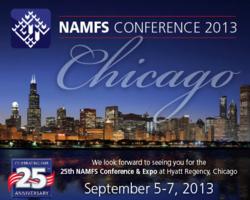 Stow, OH (PRWEB) May 28, 2013
The National Association of Mortgage Field Services (NAMFS) is pleased to announce the break out session speakers for the 2013 NAMFS Conference and Expo. The conference is being held September 5-7, 2013 at the Hyatt Regency in Chicago, Illinios. The NAMFS conference is the premier educational event for mortgage field service professionals, drawing hundreds of delegates each year. For NAMFS members, industry partners and related organizations, this event is an unparalleled opportunity to network and learn about the latest industry updates.
On Friday, September 6, five breakout sessions will be held to allow attendees the opportunity for professional development. Topics will include Creating an Agile Organization, Customer Relations Management, REO to Rental, Property Management, and Being the CEO of Your Company.
"Creating an Agile Organization" presented by Pamela Meyer:
Pamela is the President of Meyer Creativity Associates where she works with organizations internationally that want to create dynamic spaces for innovation, learning and positive change. Meyer is the author of "From Workspace to Playspace: Innovating, Learning and Changing Through Dynamic Engagement". In addition to her speaking and consulting practice, Pamela teaches courses in business creativity, organizational change, and adult learning at DePaul University, where she is also the Director of the Center to Advance Education for Adults.
"Customer Relationship Management" presented by Steve Stroz:
Steve Stroz, President of Gold Coast Advisors, will present how Mortgage Field Service professionals and organizations use customer relationship technology (CRM) to save time by automating mundane tasks, track their sales and operational processes, and facilitate marketing efforts. As organizations grow these systems can be used to manage sales and service teams, ensure a uniform and excellent customer experience, and provide managers and executives with data that helps drive strategic business decisions. Steve Stroz develops contact management and Customer Relationship Management (CRM) solutions for all sizes of local, regional, and international businesses. His client list includes Fortune 500 companies, not-for-profit organizations, and government agencies. Steve holds multiple technical certifications and is a frequent speaker and instructor at industry conferences throughout North America, Europe, and Australia. In his 17 years as a technology consultant, Steve has served on product councils, advisory boards, and industry trade associations and has authored numerous technical articles and manuals.
"REO to Rental" presented by Rick Sharga:
The rental market is continuing to grow and Rick Sharga, EVP of Carrington Mortgage Holdings will review challenges for conference attendees that deal with these type of properties. One of the country's most frequently-quoted sources on foreclosure, mortgage and real estate trends, Rick has appeared on NBC Nightly News, CNN, CBS, ABC World News, CNBC, FOX and NPR. Rick has briefed government organizations such as the Federal Reserve and Senate Banking Committee and corporations like JPMorgan Chase, Citibank and Deutsche Bank on foreclosure trends, and done foreclosure training for leading real estate organizations such as Re/Max, Prudential and Keller Williams. Rick is a member of the National Association of Real Estate Editors and the USFN, vice president of the board of directors for REOMAC, and serves on the editorial advisory board for Default Servicing News. In 2013, he was included in Inman News' Inman 100, an annual list of the most influential leaders in real estate.
"Property Management Rehab and Repairs" presented by Cheryl Lang and Diane Gozza:
We will discuss property management: aspects to managing the property and the difference in repair and rehab of a rental property vs. REO. Cheryl Lang serves as the President and Chief Executive Officer for IMS. In her role, Ms. Lang is responsible for the profitable growth of the company while ensuring excellence in operational fulfillment of all functions performed by IMS. Prior to the inception of IMS, Lang has held several positions in senior management at top 25 mortgage servicers. Ms. Lang co-authored the Property Management certification course for the Five Star Institute and is a certified trainer. Ms. Gozza co-authored the Property Management certification course for the Five Star Institute and is a certified trainer. She also received a Certificate of Completion for continuing education from the New York Real Estate Institute for Property Management; and a Certificate of Completion from the City of New York, Department of Housing Preservation and Development in Local Law 1 Compliance Training. She holds a Master Credit Executive (MCA) designation.
"Being the CEO of Your Company - Working on Your Business Instead of In Your Business" presented by Bubba Mills:
Bubba Mills is currently COO & Managing Partner for Corcoran Coaching; which is an International Real Estate Coaching Company. Bubba promotes best practices and the development of innovative ideas in Distressed Real Estate Liquidation. He is an outspoken advocate of compassionate REO and Short Sale disposition and corporate responsibility. Bubba was the former REO Operations Manager for Financial Asset Services and has also held the positions as the High Risk Loss Mitigation Manager, Mergers and Acquisitions, Wholesale and Retail Origination and Pool Sales Departments for 4 Major Companies. He is the Exclusive Five Star Institutes REO Certification Instructor and currently serves on the AREAA Advisory Board, NAHREP Advisory Board and WinDS Education Committee. Bubba is an Elite Speaker for Top 5.
Current sponsors for the NAMFS Break Out Sessions are Quest Preservation and York Jersey Underwriters. For more information about the 2013 NAMFS conference visit NAMFS.org.
About NAMFS
The National Association of Mortgage Field Services, Inc. (NAMFS) is the premier trade association for the mortgage field service industry. We are dedicated to working with all entities of the industry from the Government Agencies and investors that set policy to the contractors and inspectors that perform the work.