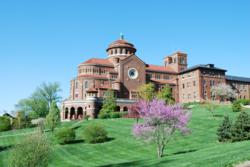 These sisters serve as role models in their communities by extending a helping hand and compassionate heart, always, to others.
Ferdinand, IN (PRWEB) May 17, 2013
The Sisters of St. Benedict who live in the awe-inspiring Monastery Immaculate Conception are dedicated to good causes. New programs are being offered out of the love they bestow on others, through their desire to help those in need, and through educational services.
The open door policy extends graciously from the Sisters of St. Benedict of Ferdinand, Indiana, as they invite visitors to the Monastery Immaculate Conception. Filled with dedication, courage, and compassion, these remarkable nuns have discovered the secret of "living the good life." One only needs to "Seek, pray, and share."
Certainly, the sisters choose a life of simplicity of their free will. But if one stumbles on it for a few days, one finds the serenity it brings. It is the extraordinary feeling of peace and freedom that surrounds the monastery and flows among the 190 acres it rests upon.
The Ferdinand Monastery is one unique piece of real estate. However, this irreplaceable landmark is so much more than a stunning architectural masterpiece—it depicts an entire culture. Benedictine sisters are grounded in the 1,500-year-old tradition of St. Benedict, which instills the values of prayer, hospitality, hard work, and the importance of community. They educate adults and children, feed the hungry, and tend to the sick, always helping out their community.
The Sisters of St. Benedict Prioress, Sister Kristine Harpenau shares… "Our various ministries flow from our prayers," and feels that work is "really a labor of love, a love of praising God through prayer, and bringing before God, through prayer, the needs of all people."
An unbelievable amount of daily prayer requests are sent to the monastery through their website, through mailings, or by contact with one of the sisters. Each individual prayer request is acknowledged by Sister Diane Fischer, who has been responsible for the website since 2007. "Some of those I read are pretty depressing, so I pray for them," claims, Sister Diane. At the holidays, as many as four thousand prayer petitions were received making this task, quite overwhelming.
Volunteers are special gifts to our society, and the sisters are volunteers, too. In this ministry of work, the need to serve God by serving others is the sole motivation. These sisters serve as role models in their communities by extending a helping hand and compassionate heart, always, to others.
Challenges are met with enthusiasm from the sisterhood because of their unending zeal to improve people's lives. New to the service of education offered by the Sisters of St. Benedict is the Family Scholar House Program, an effort that is being offered in Dubois County to help fight poverty through education. Collaborating with the Family Scholar House of Louisville, Kentucky, the Ferdinand sisters have started operations in the Monastery Immaculate Conception under the guidance of Sister Barbara Catherine Schmitz. This program will provide academic advising, case management, support for families, and other necessary resources. Family Scholar predominately assists women, mainly single mothers, who are without work or lacking skills needed to better themselves and further their educational and career opportunities.
The Director of Tourism for the sisterhood, Sister Christine Kempf, feels that she is doing more than merely providing tours of their home to visitors. She believes that an important part of being hospitable is "to get the folks to relax, feel comfortable, and make them feel important."
Guided tours of the convent and grounds are available at certain times; one might call ahead for large groups and to make sure they are being offered before making the trip.
No visit to the monastery is complete without a stop at the gift shop "For Heaven's Sake." There, one will discover plenty of hand-crafted soaps, essential oils, gift cards, and a large variety of specialty gifts, along with the signature hand-made cookies, now available in four varieties. These traditional German cookies can also be ordered online at forheavensake.org.
Help spread the word! Hope @ the Dome Youth Rally will be held on Saturday, July 6, 2013. High school youth are invited to an outdoor extravaganza of prayer, service, and celebration at Monastery Immaculate Conception in Ferdinand, Indiana, hosted by the Sisters of St. Benedict. Find out more at thedome.org/hope. And in the meantime, "Seek, pray, and share."