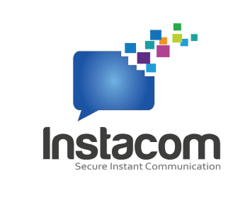 With security policies that meet and exceed compliance standards such as HIPPA, SOX, and PCI, it is the communication solution that government, healthcare, law firms, finance and all corporate organizations have been waiting for.Daniel Zborovski, CTO
Toronto, Ontario. Canada (PRWEB) May 21, 2013
Instacom Software blends the world of instant messaging, file sharing and file storage into a secure eco-system delivered from the end users IT environment. The cross-platform software finally unifies communication across all desktop and mobile devices for corporate organizations with strong security policies and encryption. With features such as GPS location mapping, mid-conversation transition amongst devices, and Centralized Administration and Reporting panels for compliance; Instacom is truly the only way to communicate in today's growing mobile computing era.
D2M Software offers trials of the program through Instacom's website. Organizations can try the revolutionary software first hand with up to 5 users for 14 days, with no commitment or upfront fee. "We believe that once you try Instacom, you won't be able to live without it!" explains Daniel Zborovski, CTO of Instacom Software, "With security policies that meet and exceed compliance standards such as HIPPA, SOX, and PCI, it is the communication solution that government, healthcare, law firms, finance and all corporate organizations have been waiting for." For more information on Instacom or to register for a free trial, visit http://www.getinstacom.com.
About D2M Software Inc.
Desktop 2 Mobile (D2M) Software, developers of Instacom, evolved from an IT service business in Toronto, Canada; that has been providing support and management to hundreds of clients for over 20 years. We identified the risk of mobile computing and communication in today's corporate organizations and combated this growing risk with Intacom, the ultimate secure communication solution. We believe that organizations all over the world should be able to communicate and collaborate with their internal and external network in a secure environment seamlessly with desktop and mobile devices, while upholding the MDM regulations and compliance standards set out by their organization.
Our development team and support is all in-house in Canada at our Toronto office. We strongly believe in supporting our homegrown talent and do not source any development overseas. Our team focuses on the combination of strategic technological methods, end user experience and value. It's this focus that has allowed us to create award-winning solutions used all over the world.