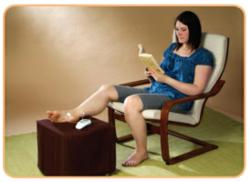 PTNS therapy has been a miracle for me. My nighttime urges have been dramatically reduced and I'm now well-rested. I am free from the constant worry about accidents. - Iradine
(PRWEB) May 22, 2013
Cherokee Women's Health Specialists is now offering a non-surgical, non-drug treatment for overactive bladder. A relatively new procedure, healthcare professionals have been using the Urgent PC Neuromodulation System to treat conditions associated with overactive bladder including urinary urgency, urinary frequency and urge incontinence.
Benefits of PTNS include:

Out-patient treatment
Highly effective: Multiple studies show patient response of 60 - 80%
Provides significant reductions in the frequency of bathroom visits and in wetting accidents
May be successful even when other therapies have failed
May be used alone or in combination with other therapies, depending on your response to Urgent PC and your provider's discretion.
Treatment is performed by inserting a small, slim needle electrode near the patient's ankle. The needle electrode is then connected to the battery-powered stimulator and turned on, at which time the provider will monitor the body's response to determine the ideal strength of the impulses. Each of your treatment sessions will last approximately 30 minutes. Patients will receive an initial series of 12 treatments, typically scheduled a week apart. After the initial 12 treatments, your doctor will discuss your response to the treatments and determine how often you will need future treatments to maintain results.
Cherokee Women's Health Specialists is a full service obstetrics and gynecology practice serving the Canton, Woodstock and Roswell areas, founded by a doctor and focused on partnering with patients to provide the best health solutions available. With five highly accredited gynecologic surgical specialists, a nurse practitioner and a seasoned midwife, Cherokee Women's Health Specialists offer only the most effective treatments in women's health care, ranging from ground-breaking surgical innovations to honest, common sense advice regarding patient choices for lifelong health and well-being. Their specialties include urinary incontinence, heavy bleeding, pelvic pain and vaginal rejuvenation.
To schedule an appointment or for more information, call 770.720.7733 or visit them at Cherokee Women's Health Specialists.