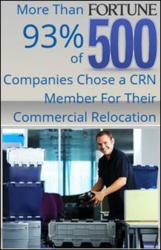 (PRWEB) May 17, 2013
Over 93 percent of Fortune 500 companies choose Commercial Relocation Networks for their office relocation needs. This is because every member of the Commercial Relocation Network (CRN) is thoroughly vetted and is among the best and most reliable office relocations specialists in the industry. As a member of CRN, office relocation specialists can meet all of their clients' commercial moving needs and provide complete and exceptional service.
Whether moving offices across the country or across the street, these major U.S. companies turn to CRN members for all office relocations. CRN members pride themselves on impeccable customer service and attention to detail that is critical for the leading Fortune 500 companies. Office relocations can be stressful, time consuming and costly, but CRN always works to ensure that the process is as smooth and as quick as possible and clients get back to work promptly.
These office relocation services preferred by the leading corporations are available to all businesses. Small businesses and Fortune 500 companies alike receive the professional office relocation assistance that has made CRN a leader in its industry. Office relocation services offered by CRN members include turn-key facility relocation management, moving computers, servers, data centers and other specialty equipment, file room relocation and even employee personal relocation.
Clients who choose CRN for their office relocation needs receive personalized care from a highly recommended moving company within their area. Each office relocation project is reviewed and is assigned a moving specialist based on their unique needs. In addition to traditional offices, CRN members are also able to provide medical office relocation and provide specialized services for offices with expensive equipment, potentially hazardous material and much more.
For more information about office relocation services preferred by nearly all major organizations, visit http://www.officemovingcrn.com/.
About The Commercial Relocation Network
The Commercial Relocation Network is a membership organization comprised of 50 of the largest office and industrial relocation companies in the United States; the process involved in a relocation company becoming a member of CRN is exceedingly stringent, meaning we offer you only the very best commercial relocation companies in today's market. Our movers can move you across the street or across the country in nothing flat, leaving you the precious time you need to continue running your corporation or to make sure your office still takes care of business, even during the move.