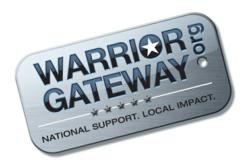 We're excited to be a part of the long standing tradition of honoring our service members at the Indy 500 and we look forward to participating through our PSA 'Home for Good'
Arlington, VA (PRWEB) May 22, 2013
Warrior Gateway, as a part of the Got Your 6 campaign, is bringing veteran awareness to the Indy 500. The organization has been on a fast track as they work to connect service members, veterans and military families to resources in their local communities and this Memorial Day, Warrior Gateway has its eyes on taking the checkered flag and conquering the big screen. Twice an hour this Friday through Sunday, Warrior Gateway's public service announcement will be playing on Indy 500 screens for the over 400,000 people in attendance.
"We're excited to be a part of the long standing tradition of honoring our service members at the Indy 500 and we look forward to participating through our PSA 'Home for Good,'" said Devin B. Holmes, Warrior Gateway's Chief Executive Officer. "We are grateful to Grazie Media for this incredible opportunity to increase awareness of our work with the military and veteran community."
With over 1100 organizations within 50 miles from the famous raceway ready to serve the over 50,000 veterans who are "Back home again in Indiana," Warrior Gateway has poised itself to answer the critical question for veterans, "Where do I go for help?"
May has been a month of impressive growth for Warrior Gateway, as they not only launched a new and improved web portal but also won a $1 million PBVLIC Foundation media grant via a social media contest. Their participation at the Indy 500 will be both a time to celebrate an incredible month while also using the weekend as a powerful time to remember our fallen heroes, the sacrifices they made and the critical support families of the fallen need. Warrior Gateway invites you to visit their Facebook page and share who you will be honoring this Memorial Day weekend at http://www.facebook.com/WarriorGateway.
About Grazie Media: Grazie Media Inc. is one of North America's leading media companies. Operating on a growing media platform, Grazie Media offers outdoor display advertising, digital commercial production, mobile app development, and the planning of marketing of worldwide campaign initiatives. Grazie Media Inc. plays a central role in offering its diverse services locally and over-seas. It is recognized for providing some of the highest attended U.S event markets with captivating, distinct, and interactive outdoor digital programming. To learn more about Grazie Media, visit http://www.graziemedia.com.
About Warrior Gateway™: Founded in 2009, Warrior Gateway connects service members, military families, wounded warriors, families of the fallen and our nation's veterans with government and non-profit programs in their local community. Warrior Gateway harnesses state-of-the art technology and community collaboration to help today's military community make better decisions about what service provider they can go to for help. Their programs provide a public forum where people can share their experiences about the quality and effectiveness of those services. In 2011, Warrior Gateway's efforts were recognized with the Federal Computer Week Fed-100 award for significant contributions to the Federal IT community and in 2012 with a ComputerWorld Honors Laureate for our innovation in creating an open-source platform for information sharing. A proud partner of the Got Your 6 campaign, Warrior Gateway works to bridge the civilian-military divide with non-profit and government partners. For more information, please visit: http://www.warriorgateway.org.