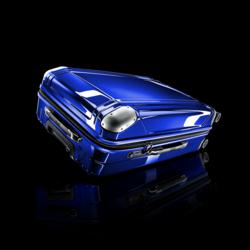 Beauty and mobility just got tougher.
Piscataway, NJ (PRWEB) May 17, 2013
Superbly stylish luggage with lightweight mobility. The ZRP-G Series offers an impressive collection of models that share a basic design philosophy. All models feature a polycarbonate body.
The stylish beauty is accentuated by Zero Halliburton's new-generation icon, the X-rib design. The body is made of impact-resistant polycarbonate and equipped with special tough fasteners. Newly developed double-wheel casters with stoppers also ensure smooth rolling, making it easy to maneuver this rugged luggage anywhere.
The slim, stylish form also distinguishes the ZRP-G Series. With its gleaming surface, this series merges fashion with luggage.
TRAVEL IN STYLE
Beauty and mobility just got tougher.