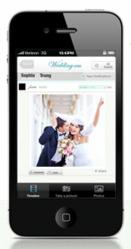 Newport Beach, CA (PRWEB) May 17, 2013
Anticipation can build up over months or even years for the moment when a groom first lays eyes on his bride in her wedding dress. Imagine this once-in-a-lifetime moment being ruined by an overeager bridesmaid posting a pic of the primping bride in her dress on Facebook. Real brides and grooms have gone through this tradition-shattering experience, and a repeat of this type of social media disaster is all too possible. (http://www.today.com/style/hold-tweet-brides-fight-social-media-spoilers-1C9866115).
Regardless of its popularity, social media is not always welcome during events like weddings, where tradition often still holds weight.
"Weddings can have lots of traditional and superstitious elements that can be important to the marrying couple," says Brett Reynolds, CEO of Wedding.com. "From wearing something old, new, borrowed and blue to keeping the bride in hiding until she walks down the aisle, social media shouldn't be a detriment to the bride and groom's big day beliefs."
To avoid having these moments ruined, brides and grooms are making their wishes clear. From the ceremony to the reception, bridal parties and guests are told if picture posting before, during or after the wedding is acceptable, or if tweeting about the special day is welcomed publicity. This information is either included on the invitations, programs, on signs at the ceremony/reception sites or a combination of the three, depending on how much of a point the couple wants to make. Some also opt for having the officiant make an announcement before the wedding procession begins.
Despite banning it on the big day, couples find social media can serve a helpful purpose during wedding planning. Sites like Pinterest make it easy for brides (or grooms) to gather ideas for their wedding day, helping the vision come to life. Wedding planners can pull from these interest boards as well to get a better understanding of what the couple is actually looking for, rather than acting as mind readers. Brides can also use these boards for sharing their thoughts with, and gaining ideas from, others involved with the wedding.
Social media has become a nearly habitual part of today's world for many. Separating this habit from the traditions and sacredness of a wedding day may feel like torture to wedding-goers. But in order for the couple's big day to reflect their desires, it's a decision some brides and grooms are choosing to make.
About Wedding.com
Wedding.com is an innovative new website that connects engaged couples planning their wedding with wedding vendors looking to grow their business. Wedding.com contacts vendors for couples, giving them the power to compare and negotiate while ultimately saving time and money. With 15,000 couples and 25,000 vendors currently using the website, 150,000 proposals have already been sent since their inception. Vendors range in services from wedding planners, photographers, florists, and DJs to custom invitations, party favors, and much more. For additional information about the company and its services, please visit Wedding.com.