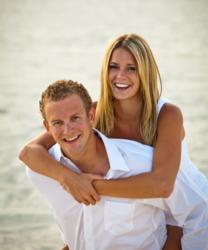 Living in Florda, a mecca for seniors, we couldn't help but see the need that exists here for quality care and reliable information
Charlotte Country, FL (PRWEB) May 17, 2013
Kris and Chelsea Chana, a twentysomething couple from Southwest Florida, are revolutionizing the senior care industry and making history with the introduction of Florida's first 5-Step Guide to Senior Care. This young and talented couple has created the ultimate senior care guide for Florida, which is a "must have" for anyone who is caring for a loved one. In addition to their guide, they have created an innovative online resource for seniors and their families.
An attractive, engaging couple, the Chanas have the credentials to succeed in just about any field. Kris, 25, graduated from the University of Florida with a Bachelor of Science degree in finance and a minor in entrepreneurship. Chelsea, 22, earned a pre-med biology degree at University of Florida as well. They share a strong compassion and commitment to helping others.
"We both knew we wanted to engage in something meaningful, with a lasting impact," says Chelsea. "Living in Florda, a mecca for seniors, we couldn't help but see the need that exists here for quality care and reliable information."
Kris and Chelsea entered the assisted living field and became determined to create a new kind of facility. They founded Chelsea Place Retirement Living and created a compassionate environment that would treat people with dignity, integrity and respect. Kris called it "World Class Care."
But the Chanas were not done yet. While working with residents and their families, promoting Chelsea Place and networking with Charlotte County senior care providers, they recognized another need. There was no single source of timely, up-to-date information on senior services. Available booklets, newsletters and other sources often were not current and certainly not readily accessable to seniors and their families, many of whom live outside Florida.
Kris and Chelsea thus turned to the Internet and created SeniorSource.com, a one-stop online resource for seniors, families, caregivers and senior-service providers. The website's foundation is comprised of three features: A categorized list of senior resources, timely and informative articles written by local professionals, and upcoming events beneficial to seniors.
"Whether you're searching local resources for yourself or looking for a loved one, this website will give people one place to access all the information they need, anywhere, anytime, and at no cost" Kris says. "Often, people have asked me to recommend a VA specialist, elder law attorney or other professional, but many times I may not have that contact information with me. Now we can direct people to one site and give them easy access to a comprehensive list of available senior resources."
Complimentary to SeniorSource.com, Kris and Chelsea produced, "Florida's 5-Step Guide to Senior Care," a 16-page, glossy publication containing vital information about caring for an aging loved one. The Chanas are making history with the introduction of their new senior guide, which is available online for free at http://www.SeniorSource.com/guide.
Having successfully launched SeniorSource.com in Charlotte County, Kris and Chelsea are expanding the website across the State of Florida.
For additional information or to arrange an interview with Kris and Chelsea Chana, call 817-201-3113. You may also visit SeniorSource.com to learn more.
Attachments
Kris and Chelsea photo
SeniorSource.com video
Florida's 5 Step Guide to Senior Care
For additional information, contact
Michael Voss (941) 586-5788