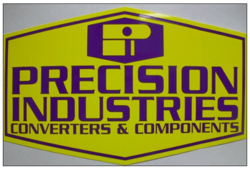 "Memorial Day is a special time for everyone in this country, and we really wanted to take the time to say a special thanks to our present service-members with the availability of a military discount..." said a spokesperson
Whiteville, TN (PRWEB) May 18, 2013
Precision Industries, Tennessee-based retailer of aftermarket torque converters, is pleased to announce the availability of a military discount to celebrate the upcoming Memorial Day Holiday, on May 27th.
According to a spokesperson from Precision Industries, the company plans to celebrate the enormous sacrifices made by service-members by offering a military discount on products offered by the company, which include a wide selection of high quality torque converters, including Dragon torque converters and performance torque converters.
"Memorial Day is a special time for everyone in this country, and we really wanted to take the time to say a special thanks to our present service-members with the availability of a military discount on all of our torque converters and associated products," said a spokesperson for Precision Industries. "The military community is one of our biggest client bases, and we're looking forward to celebrating Memorial Day and providing them the proper recognition for their service."
Precision Industries, based in Tennessee, designs and manufactures a range of aftermarket torque converters. The company was the first aftermarket torque converter manufacturer to design, develop and create multi-disc torque converters. All converters manufactured by Precision are designed to ensure the highest possible level of multiplication and mileage, while simultaneously offering decreased temperatures. Additionally, their designs offer the unique capabilities to withstand a variety of conditions, including extreme abuse, heavy towing and sled pulling.
Some of the most popular torque converters sold by the company include the Vigilante, the Stallion, the Viper and the Dragon.
In order to find out more information about the Military Appreciation Discounts offered by Precision Industries, call the company at (731) 254-0055.
About Precision Industries
Precision Industries is based in Whiteville, TN, outside of Memphis. The company provides high performance torque converters. Although Precision Industries is a relatively young company, the owners and technicians possess many years of hard earned experience in torque converter manufacturing. The team leader is Terry Hedrick, president of the company. Terry brings many years of racing and automotive repair business experience to the company. For more detail, visit: http://converter.com/.