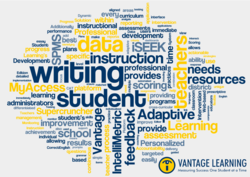 Yardley, PA (PRWEB) May 17, 2013
Vantage Learning's Professional Services Group is proud to offer their next webinar series installment exploring the latest developments in the area of Professional Learning on Wednesday, May 29th from 4-5pm EST. The panel discussion, led by Vantage Learning's Dr. Sydelle Mason, will focus on the importance of Professional Learning, key elements of successful implementations and how schools can create collaborative communities to bring about improvement in their educators' professional development.
Joining Dr. Mason will be a panel of Professional Learning experts:

Dr. Tom Shuster -- Board Chairman and Managing Partner of Spectrum RED, LLC
Barbara Guyton -- Founder and CEO of GOALS Inc, an educational consulting company serving state departments, educational service agencies, districts and schools
Casey Elliott -- CEO of thereNow, a leading company specializing in innovative classroom camera solutions for professional learning
Dr. Deborah Hobbs -- National Director of TALENTS UNLIMITED, the largest program in the gifted and talented category of the National Diffusion Network, and Associate Professor of Elementary Education at Utah State University
Participants can reserve their place for this webinar at https://www1.gotomeeting.com/register/749324928.