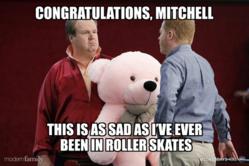 SANTA ANA, California (PRWEB) May 17, 2013
There were two "Teddy" characters charming over 9 million viewers during the May 8, 2013 My Hero episode of ABC's award-winning TV show, "Modern Family." One was Mitchell's (Jesse Tyler Ferguson) ex, and the other was an unexpected giant pink teddy bear, starring opposite Cam (Eric Stonestreet) as he melted down in one of his characteristic dramatic rants.
Lady Cuddles, a 48" pink bear from the Giant Teddy Company, made her comedy television debut as the prize Cam wins for a record-setting punch to a tiny punching bag at the roller rink where the whole family is attending a fundraiser promoted by the other adorable Teddy, Mitch's ex. Cam struggles with his growing feelings of inadequacy while carrying around the giant pink teddy bear in a number of scenes, ending in a photo together on the rink's Wall of Fame.
Asked to comment on the instant stardom of Lady Cuddles, Giant Teddy President and CEO Ray Khorsavi joked, "We are delighted that Lady Cuddles finally realized her dream of being a star – we love the show and were honored that they used her."
Khorsavi went on to say he hopes the television exposure might lead to using Lady Cuddles as a spokes bear for other high profile media events. "Her pink fur color makes her an ideal ambassador for Breast Cancer awareness, and her size grabs instant attention. I'd like to see her invited to some kind of Think Pink event to bring a lot of smiles and open a lot of wallets. She's good at being a charmer."
Giant Teddy was founded in California in 2007 by Ray Khosravi and specializes in giant teddy bears with unique personality and hand-designed characteristics. For more information or to order a personalized teddy bear, please visit http://www.GiantTeddy.com.