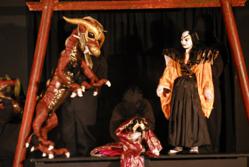 This festival will be like no other happening anywhere else in the country this summer.
Nashville, TN (PRWEB) May 17, 2013
This summer, renowned puppeteers and performers from all over the world will make their way to Nashville, Tennessee for the 2013 Nashville International Puppet Festival June 21-23 at the Nashville Public Library and surrounding area. The festival is free and open to the public.
"We have a top-tier library system, and this festival will be like no other happening anywhere else in the country this summer," said Nashville Mayor Karl Dean. "This one-of-a-kind festival will showcase our library and our city to 25,000 visitors from around the country and the world."
The library hosted Nashville's first international puppet festival in 2008, which attracted more than 18,000 people. New this year is the Puppet Festival Parade. The parade will wind down Church Street through the Arts District and feature performers with stilts, unicycles, floats, vintage cars and puppets.
Tickets for the International Puppet Festival are free, but limited and are on sale now. Patrons can reserve advance tickets for a $2.50 convenience fee.
The library will hold two special events in collaboration with the Country Music Hall of Fame® and Museum and Tennessee Performing Arts Center.
The debut performance of Wishing Chair Productions' "String City: Nashville's Tradition of Music and Puppetry" will take place June 20 at the Country Music Hall of Fame® and Museum. Tennessee Performing Arts Center will present a performance by world renowned puppeteer Phillip Huber June 22. Known for his work with marionettes in "Being John Malkovich" and in Disney's "Oz, The Great and Powerful," Huber will perform "Suspended Animation." Tickets are $30 in advance online or $40 the night of event and on sale now.
Featured performers include Phillip Huber Marionettes, Velo Theater from France, Dragon Art Studio from China, Kawasemi-Za from Japan, Sombras Chinas from Argentina and Dresdner Figurentheater from Germany among others.
The marionette tradition began at the Nashville Public Library in 1938 when Tom Tichenor performed a rendition of "Puss in Boots." Seventy-five years later, marionette shows are still performed at the downtown library on Friday and Saturday mornings by Wishing Chair Productions, the library's very own puppet troupe.
To find your next vacation sweet spot explore tnvacation.com and join other Tennessee travelers following us on Facebook, Twitter, Pinterest, Instagram and YouTube.