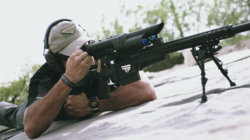 Tracking moving targets at long range from helicopters with smart rifle technology.
Austin, TX (PRWEB) May 17, 2013
Armed with .338 Lapua Magnum and .300 Winchester Magnum Precision Guided Firearms, a Phantom slow motion camera, a RED Epic and a RED Scarlet, the TrackingPoint team took to the hunting grounds and ranges of their native Texas to showcase latest capability developments of Precision Guided Firearms in real world hunting and shooting scenarios.
Slow motion hits recorded in the video include a quarter from hundreds of yards away. Impact shots on various fruits and electronics were captured in vibrant slow motion, and complemented from video recorded internally through the Precision Guided Firearm's Networked Tracking Scope. The popular Texas hunting past-time of harvesting feral hogs from helicopters also provided a great showcase for the Precision Guided Firearm technology that tracks moving targets, and compensates for movement on the part of the user.
You can view the video as the featured item on the TrackingPoint youtube page youtube.com/trackingpoint.
TrackingPoint staff issued this description, "Many of you have seen our Extreme Distance Hunting video where we showcase how Precision Guided Firearms can make ethical extreme distance shots on game. For our newest release, we wanted to showcase other incredible PGF features like tracking and hitting moving targets, extreme accuracy at varied distances, and shooting while flying."
Early tech adopters likened the smart rifle tracking and accuracy capabilities to an "aimbot" like those seen in video games. Germany's edition of Gizmodo went as far as to title their post about the rifle system "TrackingPoint Aimbot". Extremetech.com's article on TrackingPoint described the system as "Precision Guided Firearms (PGFs) that use a Linux-powered scope and other advanced technologies to provide shooters with real-world auto-aim".
TrackingPoint's Linux-powered Networked Tracking Scope records the video output from the PGF, so that you can download and share your own hunting and shooting content. The scope also has a built-in WiFi server, which can be connected to from the companion iOS and Android app, allowing streaming of what can be seen through the scope through the Heads Up Display to phones, computers and tablets.