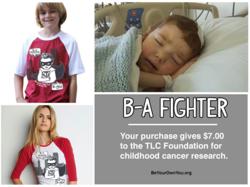 Because Kids Get Cancer Too
Escondido, CA (PRWEB) May 16, 2013
BYOU was happy to announce earlier this week that they have collaborated with the Ty Foundation in earnest efforts to help raise money and awareness for Childhood Cancer Research, because children get cancer too.
The Ty Foundation raises funds for Childhood Cancer Research in honor of their son, Ty Louis Campbell, who fell to cancer at the age of 5. Ty dreamed of jumping in Muddy Puddles when he was "all bedda." The Muddy Puddles Project was created to celebrate the childhood Ty yearned for.
With BYOU's motto "B-Inspired! B-Involved! B-Empowered!" they were excited to join the Ty Foundation, alongside The Muddy Puddles Project and create a campaign using BYOU's Signature Series T-Shirt's and Apparel line. They worked closely with Ty's mother Cindy to create inspiring limited edition designs that were then placed on various apparel and merchandise that is featured on the BYOU website http://www.BeYourOwnYou.org. BYOU then donates $7 of every purchase to the Ty Foundation. It is BYOU's way to not only raise awareness and major funding for the Ty Foundation, but to encourage people to join their empowerment movement.
About Ty Louis Campbell Foundation:
The Ty Louis Campbell Foundation is a nonprofit organization, certified 501(c)(3), that funds innovative research and clinical trials specifically geared toward the treatment of the deadliest childhood cancers (including brain and spinal cord tumors). Our organization seeks less toxic, more effective treatments that are specifically designed for children fighting cancer. Our ultimate mission is to help fund the intelligence and technology that will uncover new ways to cure children with cancer.
About BYOU - Be Your Own You:
Be Your Own You is a lifestyle brand that empowers women and children through positive messaging, apparel and accessories, educational programs and an editorial magazine. BYOU was formed in partnership with Children's Edutainment Network and teen celebrity Cymphonique Miller. Today, BYOU is building a brand that will touch the lives of girls and women worldwide. For more information and to check out the online store visit, http://www.BeYourOwnYou.org.