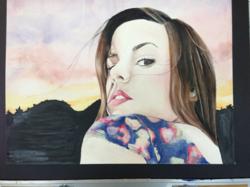 We're excited to feature works by some of the most talented young artists in our area at Art Effect, Bergen County's first high school art competition.
Englewood, NJ (PRWEB) May 16, 2013
One River Gallery in Englewood, New Jersey will present "Art Effect", an exhibition and competition for high school students in Bergen County.
Fifty students have been selected to represent their schools in this first-ever event that celebrates the work of the next generation of local artists. Participating high schools include Cresskill High School, Dwight Englewood High School, Northern Valley Demarest and Old Tappan, and Tenafly High School. Winners will be selected on the exhibition's opening night, Friday, May 31, and the artwork will be exhibited through Sunday, June 2.
"We're excited to feature works by some of the most talented young artists in Bergen County," says Matt Ross, founder of One River Gallery. "Our mission is to celebrate art and creativity by teaching and presenting art in the most compelling way, and our local high schools are truly doing a great job inspiring young artists and helping them to develop their craft."
Each of the five participating high schools will curate their own exhibitions at One River Gallery. The submissions will be in a wide range of media, including drawing, painting, photography, and 3D. The jurors who will be judging the submissions will be Clint Jukkala, the Associate Professor of Painting/Printmaking and Director of Undergraduate Studies at Yale University; and John J. O'Connor, who teaches art and art history at Pratt Institute, Princeton University, and Sarah Lawrence College. Prizes will be awarded for Best in Show and Best by School.
"One River Gallery opened last September with a goal of creating a nurturing space for creative expression," says Ross. "I can't think of a greater honor than offering the Gallery as a showcase for some of the best high school artists in our area."
One River Gallery's Art Effect High School Exhibition and Competition will be held at One River Gallery, 49 N.Dean Street in Englewood. The opening will take place on Friday, May 31, with a reception for students, their families and friends, and area art enthusiasts from 6:00PM until 9:00PM.