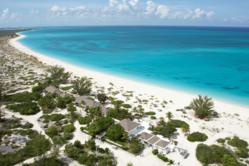 It's a 'hide out' to totally unwind for however long you need - Trip Advisor Review
Turks & Caicos (PRWEB) May 17, 2013
The Meridian Club on Pine Cay, a private 800-acre island with two miles of pristine beach, has hosted several unusual guests over the years. From a frequent visitor who once played on Jeopardy (which catapulted her into family life), to the pigeon who recently island-hopped to the Turks and Caicos from Puerto Rico (466 miles) and stayed many days longer than normal for his species, it seems no one can resist the peaceful lifestyle of a private island retreat in the Caribbean, least of all couples seeking a secluded intimate vacation. There are plenty of other visitor stories, such as our very first guests who discovered this private Caribbean island in 1958 and the large guests who recently breached off the shores of Pine Cay and put on a show for those enjoying a fishing excursion. So, The Meridian Club has created a special package for both romantic visits and small wedding ceremonies to celebrate that someone special with that someone special.
Since the underlying theme of these guests seems to be couples - the whales arriving together, the pigeon seemingly looking for a mate, and the humans arriving and staying together - The Meridian Club has decided to celebrate "the couple" in its romance package for May, June and July. For honeymoons, anniversaries, and other celebratory trips, this package includes champagne for a special welcome, a castaway picnic on a deserted island and a private dinner under the stars. For 2013, The Meridian Club is adding one-day use of a golf cart to travel around the island so couples can discover private alcoves and bathing areas in their own island adventure. Often the property assists in wedding proposals, as recently as a week ago, and can also be booked for smaller-sized weddings. Wedding parties range from complete island takeovers, which include some of the private homes on the island available for rent, to reserving a few rooms for the bridegroom and their attendees. Most weddings are held in the morning, so service providers can return to the mainland before dark, and they run a gamut in size, style and sizzle to suit the couple.
Pine Cay is a private island with 12 beach suites and one private beach cottage, and reservations include breakfast, lunch, dinner and basic activities such as kayaking, using the snorkel gear, playing tennis, taking the bikes around the island, etc. Private taxi and boat transfers are also included in the nightly rates, which start at $840. For more information.