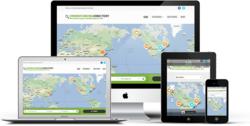 The ultimate portal where individuals can find the "who's who" of the crowdfunding business & services world
British Columbia, Canada (PRWEB) May 16, 2013
Starting Trends is excited to announce the launch of Crowdfunding-Directory.com, the world's first geo-location-based global crowdfunding directory and 411 search site.
"We've spent the past couple of years building up our crowdfunding directory which has helped connect a lot of people with funding portals and various crowdfunding companies that suit their needs. However, with the crowdfunding industry growing so fast worldwide we knew our directory could be improved and that we could make it even easier for people to find the type of business, funding portal, product or service they're looking for and that's exactly what Crowdfunding-Directory.com does," stated Darryl Burma, founder and owner of Starting Trends.
With Crowdfunding-Directory.com, one can quickly and easily narrow down a search based on keywords, category and location. For example, if a person is looking for a donation-based funding portal in the UK geared towards mobile app development or an equity-based funding portal for real estate in Chicago, this advanced new directory and search engine will enable people to do that.
Probably the most useful tool of this new directory is its geo-location-based search functionality.
"Even without the geo-location-based feature our new crowdfunding business directory is a lot more advanced and easier to search and navigate. With the addition of a global geo-location-based search option, it just takes the service to a whole new level and allows people to search for a crowdfunding business or service within one to 300km of their location," continued Burma
Nowadays a lot interactivity and communication is done online but even in this digital world some people still prefer meeting with others face-to-face or dealing with businesses in their area. Not only do people typically have more peace of mind when dealing with companies close by, in some situations people prefer to conduct business in person when it comes to say something like, crowdfunding consultation for example.
"The goal of this enhanced and first-of-its-kind crowdfunding business directory is to connect people with companies quicker and easier than ever before. We want it to be an ultimate portal where individuals can find the "who's who" of the crowdfunding business and services world in order for them to get their needs, met quicker by companies that are well known andtrusted. At some point, we plan to develop an advanced mobile app for the new service as well so be sure to keep an eye out for that," Burma concluded.
Another added bonus is the ratings and review feature. Visitors can leave custom reviews about experiences with particular companies in the directory. This will help add even more value and credibility to both the companies that are listed as well as the individuals who use the service to find trusted companies to conduct business with.
To learn more, check out the new site at Crowdfunding-Directory.com. Add your listing and get your company on the map today!
About The Company
Starting Trends is a Canadian-based company which is dedicated to helping entrepreneurs and startups worldwide understand as well as get the most out of crowdfunding. We work closely with crowdfunding industry experts, pioneers and leaders to help educate and prepare entrepreneurs when it comes to successfully launching and getting their startup or new small business up and running.
There are many changes, new laws being formed and developments taking place in the crowdfunding industry (both donation and equity based). This includes Canada, the U.S.A. and worldwide. Being that the industry as a whole is in such a rapid stage of growth/change, a lot of entrepreneurs have questions and we help provide them with accurate answers and solutions to help eliminate any confusion.
Do you need help getting your idea or startup company funded & off the ground with Crowdfunding? Our name practically says it all. We are dedicated to helping bring fresh ideas and startup companies to life by providing you with the best tools and resources available when it comes to planning your business and Crowdfunding.
You have an idea and we understand the steps required to get that idea properly funded!
This information is being distributed for the client, by Philip Cardwell at Universal Media Consultants. From top magazines to leading TV stations, UMC has been very effective at distilling client's messages in the major national media. The aim is simple. To multiply message impact and client exposure in highly targeted markets, quickly, imaginatively, and cost-effectively. For more information, visit http://www.universal-media-consultants.com.