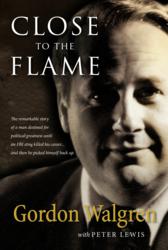 "For the first time, former state Senate majority leader Gordon Walgren details the extraordinary FBI zeal in fabricating the "sting" that sent him to prison and ended his promising political career." — Ronald Bright, retired special agent, US NCIS
Centralia, Washington (PRWEB) May 17, 2013
The horrific eruption of Mt. Saint Helen's on May 18, 1980 took headlines away from the political scandal of racketeering charges broken open on April 2 and just about anything else happening. However, by summer of that same year the Gamscam scandal, as it came to be known, went to trial. Now hear the story of Gordon Walgren, one of those revered Washington leaders caught up in the disastrous flow, in his own words.
"Close to the Flame," Walgren's autobiography with award-winning journalist Peter Lewis, is a page-turning tell-all of Washington politics starting in the Sixties and exposes information and details from the marbled halls of the capital to a correctional facility in California.
The quality cover design and text layout of "Close to the Flame" were created by Gorham Printing's graphic design staff. This short-run book printer in western Washington had the privilege of creating the combination printed books and eBook files for Walgren. Both trade paperback and eBook editions are now available at his website.
In the Pacific Northwest Bigfoot is a hot topic. And now with reality television shows like Animal Planet's "Finding Bigfoot," such stories are being enjoyed by a wider audience. Beverly J. Roberts' latest book "Bigfoot Face to Face" is an amazing account of her encounters; that's not a typo—plural, on a thousand-acre ranch in rural southwest Washington over the course of two years. Up close and personal accounts of her Sasquatch fill the first half of the book with stories of other people's sightings included in the back.
Currently living in Oakville, Washington, Roberts had the distinction of building a replica of her acquaintance she named Barney at the North Fork Survivors Gift Shop in Toutle, Washington. Copies of her book "Bigfoot Face to Face" may be purchased at the gift shop.
Roberts designed and set up the cover and text of this trade paperback memoir herself. Gorham Printing used her PDF files to print short-runs of the self-published book. Roberts anticipates being back often for more copies as people learn of her Bigfoot tales and thrills.