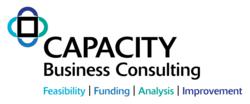 "We focus on the research" said Egeland, "Doing without is like throwing darts with your eyes closed. We don't allow our clients to waste their marketing budget that way."
Newburgh, NY (PRWEB) May 23, 2013
Capacity Business Consulting announces its exciting new Strategic Marketing services designed to drastically increase the return on a company's investment in advertising, web, collateral, and other efforts.
Eric Egeland, President of Capacity points out "Many marketing professionals do a short needs analysis, or none at all, before asking the client to pick from one or two campaigns. The problem is it doesn't matter what you like, it matters what your addressable target market likes."
The key ingredient to success is the research conducted in a proper situational analysis including target market, psychographics, SWOT, competition, etc. This is a crucial first step that allows sound development of an efficient and effective strategy. A Google search finds plenty of stories about monster brands like Coke, Ikea, and Oreo making huge mistakes because they skimped on the research.
The objective research is then coupled with the client's subjective goals to formulate a strategy. The idea of creative people spit-balling ideas is avoided in favor of following the research. If it identifies the psychographic of your target market as blue collar and anti-electronic device, the strategy would obviously not revolve around BMW's and voice to text; even if that is the hot new marketing thing.
Trusted marketing firms can then utilize the research and strategy to develop logos that clients love, websites that say what the target market wants to hear, and ads and collateral that make people want to buy. "We focus on the research" said Egeland, "Doing without is like throwing darts with your eyes closed. We don't allow our clients to waste their marketing budget that way."
About Capacity Business Consulting
Capacity Business Consulting's broad array of services includes feasibility studies, funding preparation, issue analysis, improvement strategy, marketing strategy, sales preparation, business brokerage, etc. for small- to medium-sized businesses and startups in any industry. For more information, visit http://www.CapacityBusinessConsulting.com
https://www.facebook.com/pages/Capacity-Business-Consulting/234236463315914?ref=hl
845.764-9484
info(at)CapacityConsultingInc(dot)com.