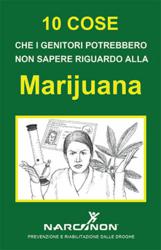 We have published in Italian the ten most important points that parents should discuss with their children regarding cannabis.
(PRWEB) May 20, 2013
For more than forty years, Narconon rehab and prevention centers worldwide have waged a battle against drug and alcohol abuse around the world. Now, Narconon International announces that it has released its first guide to help Italian speakers reverse growing trends in cannabis abuse.
Surveys published by the European Monitoring Centre for Drugs and Drug Addiction show that among Italian youth, one in four have used cannabis in the last year. As a glimpse of where things are going, a May 2013 report on the news service SudItaliaNews.com reports that cannabis consumption is rising among young Italians, even while its use by Italians in general is decreasing.
"Italian-speaking parents whether in Italy or anywhere worldwide too often may not know how to approach this subject with their children," said Clark Carr, president of Narconon International. "To make it simpler for them, we have published in Italian the ten most important points that parents should discuss with their children regarding cannabis." Carr went on to suggest that parents take one point at a time from this free, downloadable booklet and discuss it with their children at dinnertime, letting children voice their opinions and answering their questions.
Carr encouraged Italian speakers to download the book from http://italiano.narconon.org/educazione-sulle-droghe/fatti-di-marijuana.
Just a few weeks before the release of this free Narconon booklet, Italian authorities seized more than 22 tons (20 MT) of cannabis resin from a ship that had originated in Morocco and was sailing near Sicily. Usually, annual seizures of cannabis resin total between 10 and 15 tons.
"There's no question that children are the target of drug traffickers in Italy or everywhere else," Carr continued. "Drug traffickers know that Italian youth are the group with the heaviest rate of abuse, so they will zero in on this demographic when these drugs come ashore. These youth need our help to resist drug abuse that can progress to addiction."
Some people assert that cannabis is not addictive, but one in five Italians entering addiction treatment facilities list cannabis as the primary drug causing them to have become addicted, according to information published by the United Nations.
For those who have already become addicted to cannabis, Narconon offers its effective drug rehabilitation program in seven locations in Italy. The locations of Narconon drug rehabilitation centers in Italy can be found at: http://www.narconon.org/narconon-centers/europe.html.
For more information on Narconon, visit http://www.narconon.org or call 1-800-775-8750.
Resources:
http://www.state.gov/j/inl/rls/nrcrpt/2013/vol1/204050.htm
http://www.suditalianews.com/2013/05/09/cannabis-up-among-15-19-year-olds-in-italy/