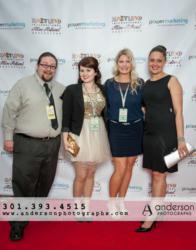 Hagerstown, MD (PRWEB) May 17, 2013
Power Marketing, a full-service advertising agency in MD, is augmenting their festival and film-marketing services in a big way by networking at the Cannes Film Festival in Cannes, France. Power Marketing Development Director Tracie Hovey has years of experience in the film and film festival industry, and she will represent the company at networking events at the festival May 18-24.
"We understand development of this new vertical market won't happen over night, but we're excited about the potential," says Power Marketing President Brian Flook. Power Marketing was a significant force in assisting the Maryland International Film Festival with all marketing Hagerstown materials, public relations and web maintenance during this year's festival. "There was such excitement within our office and the community when we worked on the film festival program," says Flook. "It was a huge success. We would like to continue developing strategic public relations and marketing campaigns for other markets as well."
Hovey serves as vice president of the Maryland International Film Festival and was invited to attend a party exclusive to Cannes festival organizers. The party will be held Tuesday, May 21 from 7 to 9 p.m and is sponsored by FilmFestivals.com in association with FashionTV Red Carpet Lounge, IndieFlix, MusiVision Films, Emotion Film Factory, Champagne 1er cru Croix d'Irval and Seriously Inc. "When Tracie received this invitation, we discussed it and realized it would be a fantastic means to network and potentially grow our Maryland marketing business," Flook says. Hovey adds, "I am beyond thrilled to have been invited to attend the most publicized festival in the world. I know just being there will be an asset to our business."
Power Marketing has two in-house, award-winning filmmakers. Web Designer Matt Matzen and Hovey have both received awards through the festival circuit. Hovey's film "Secrets to Love" retained distribution with PBS Distribution following her festival experience. Both Hovey and Matzen are working on new features. Flook adds, "Tracie has expertise in documentary film and Matt has expertise in narrative film, so between the two of them we can assist up-and-coming filmmakers with marketing PA and public relations efforts that will be effective."
About Power Marketing:
Power Marketing, LLC is a full-service marketing firm with more than 20 years of hands-on experience in marketing strategy, Internet marketing MD solutions, SEO, marketing social media, public relations and web design. Power Marketing assists companies in maximizing their resources to improve their brand identity and sales success. For more information, please contact Communications Specialist Krista Scarlett, 301-416-7861, krista(at)power-marketing(dot)com, or visit Power Marketing's website.
# # #