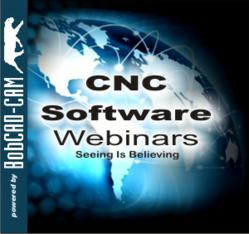 Combining modern presentation technology with solutions in manufacturing automation is a great way to engage and boost American Manufacturing.
Clearwater, Florida (PRWEB) May 17, 2013
BobCAD-CAM is a pioneer in developing and providing computer aided design and manufacturing software technology. CAD/CAM software gives manufacturing CNC shops the edge in productivity through automating the design, part programming and machining process. They are now launching new CAD/CAM software productivity webinars that demonstrate proven CNC machining processes with CNC Software. These online webinars are set to give unique insight into improving work flow process and give proven techniques on making the programming process as smooth as possible.
"These new productivity webinars allow CNC shops to easily log on to a simple online presentation and learn something new every time on programming with CAD/CAM software," says Chris Corbell, BobCAD-CAM representative. Live webinars are going to show manufacturers the latest technology in 2, 3, 4 and 5 Axis CNC machining. Attendees can expect to see the presenter take a design or solid model part and show machine toolpath strategies that save time and money. This includes writing NC programs that the machine tool understands and simulation processes. "It's all about improving work flow efficiency in CNC programming process," continued Corbell. BobCAD-CAM webinars will include product demonstrations on their complete line of modular CAD/CAM products as well as answer questions regarding the software. They are also scheduling webinars for their Gold Partner BobCAM for SolidWorks plug-in that allows SolidWorks design customers the ability to integrate a CAM product inside of their SolidWorks CAD system. They feel that by continuing to educate the manufacturing industries on how CAD/CAM works and how to use it to increase productivity, the global CNC manufacturing industry will experience great benefits.
If you would like more information on how to attend a Webinar visit FREE CAD/CAM Webinars or contact BobCAD-CAM directly at 877-262-2231 today. You can also visit BobCAD-CAM online at http://www.bobcad.com.