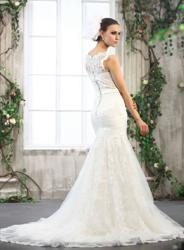 Our aim is to provide an alternative to high prices, cheap imitations or rentals by offering customers the best quality gowns, excellent customer service with practical advice from native English speaking staff and at prices that saves customers money
Dublin, Ireland (PRWEB) May 17, 2013
LailaMonroe.com, an online retailer specializing in custom made bridal gowns, has just expanded its collection of wedding dress designs and launched an exciting new "direct to consumer" web site giving the public access to a wide range of designer quality gowns at very affordable prices, usually less than 50% of the high street price.
"Brides now have a real choice when it comes to choosing their wedding dress" says LailaMonroe.com founder Michael MacMahon. "Our aim is to provide an alternative to high prices, cheap imitations or dress rentals by offering customers the best quality gowns, excellent customer service with practical advice from native English speaking staff and at prices that can save money even against renting a dress"
Traditionally, wedding dresses were purchased from a bridal boutique where opening times are limited and, according to Michael MacMahon, "prices are high and the "free" glass of champagne comes at a price".
Online shopping offers an alternative but many of the "too good to be true" Internet bargains are just that, too good to be true! Hundreds of web sites, mostly in China, sell cheap imitations of original designs by Pronovias, Maggie Sottero, Aire Barcelona, Vera Wang etc. for just a couple of hundred dollars. The sites are difficult to contact and the quality is "questionable" so it's a big risk for such an important purchase.
"Buying a wedding dress online is not for everybody but those who are happy to shop online deserve the same top quality as is available in stores".
There has been a move towards the "rent the dress" market since the economic downturn and this is understandable. However, many brides don't want a pre worn dress and they are faced with a limited selection with dresses having to be altered to fit. The cost of a new custom, made to fit, dress from Laila Monroe would be just a little higher than renting but with many advantages.
Each dress is a new and customized so even if the style the bride wants is not in the current catalogue, it is almost certain that it can be made so in effect, there is almost no limit on the selection available. And of course, if the bride decides to sell her dress after the wedding, she will recoup almost all her outlay and could end up paying less than she would have paid for a rental dress.
In a variety of countries, including the USA, the UK and Australia, many brides will have seen gowns by LailaMonroe.com but under a variety of "own brand" labels. The gowns retail in-store from $900 up to $3,000 but online, the same dresses can be purchased under the Laila Monroe brand for under $400 up to $1,200.
Based in Dublin, Ireland, the company offers free shipping on online purchases of wedding dresses and a no quibble refund policy.
To celebrate the launch of the new web site, LailaMonroe.com has a number of special offers with additional savings of hundreds of dollars running until the end of May. Customer service is important so it is simple for customers to contact the company via Live Chat on the site as well as by Skype or by phone.
For further information, please visit http://www.lailamonroe.com