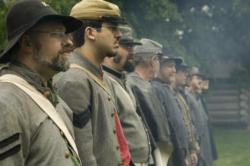 Dearborn, Mich (PRWEB) May 17, 2013
Transport yourself back to a pivotal time in our nation's history as Greenfield Village transforms into 1860s America during Civil War Remembrance this Memorial Day Weekend, May 25-27. Join more than 450 re-enactors as they re-create Union, Confederate and civilian encampments, perform military tactical demonstrations, offer dramatic presentations and participate in one of the most comprehensive Civil War events in the Nation. The Civil War Remembrance event is an officially endorsed event of the Michigan Historical Commission's Civil War Sesquicentennial Committee.
Honor the sacrifices and achievements of those who have bravely fought and continue to fight in defense of our nation during a moving commemoration presented by historian William Hendricks on Monday, May 27 at noon on the Village Green. The Henry Ford will also participate in a national moment of silence on that day at 3 p.m. as signaled by the Armington & Sims shop whistle.
As you make your way through the military and civilian camps get inspired by the stories shared by the soldiers and civilians who witnessed the way from the home front. See artifacts from the Civil War inside the Village Pavilion including original military items, clothing worn during that time and original artillery pieces from the First Michigan Light Artillery. Special presentations will be delivered by historians and experts from Michigan, Ohio and Pennsylvania. Guests to the event this year will see items from the collections of The Henry Ford including photographs of Henry Ford's uncles who fought with the 24th Michigan Volunteer Infantry – one of the most celebrated units of the war and part of the famed Iron Brigade. Also on display will be an 1890 oil painting of the Michigan Cavalry Brigade Monument at Gettysburg. Also display will be the ornate jacket Robert Hendershot wore when he played his military drum at veterans events in the 1880s and 1890s. This Civil War veteran used his savvy promotional skills to garner fame as the legendary, brave "Drummer Boy of the Rappahannock."
As part of the weekend's activities, trace your family tree to the battlegrounds with Civil War historian Dale R. Niesen or create a souvenir ribbon rosette at Edison Homestead. Join the battle by "enlisting" at the recruiting office located at the Phoenixville Post Office and receive a reproduction Volunteer Enlistment paper. Stay until 9 p.m. on Saturday and take in the sounds of the Dodworth Saxhorn Band, America's premier 19th-century brass ensemble, performing outside Town Hall near the Village Green.
Admission to Civil War Remembrance is free with membership or $24 for adults, $22 for seniors 62 and up and $17.50 for youth 5-12. Children four and under are free. For more information, call (313) 982-6001 or visit http://www.thehenryford.org/events/civilWarRemembrance.aspx.
About The Henry Ford
The Henry Ford in Dearborn, Michigan is an internationally-recognized cultural destination where stories and artifacts from 300 years of America's history bring to life the accomplishments of ordinary and extraordinary individuals alike. A national historic landmark with five unique venues, unparalleled collections and world-class expertise, The Henry Ford is a force for fueling the spirit of American innovation and inspiring a 'can-do' culture. Nearly two million visitors annually experience its attractions: Henry Ford Museum, Greenfield Village, The Ford Rouge Factory Tour, The Benson Ford Research Center and The Henry Ford IMAX Theatre. A continually expanding array of content available online provides anytime, anywhere access. The Henry Ford is also home to Henry Ford Academy, a public charter high school which educates 485 students a year on the institution's campus. For more information please visit our website thehenryford.org.
# # #