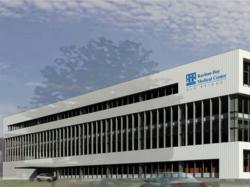 Old Bridge, NJ (PRWEB) May 17, 2013
Raritan Bay Medical Center (RBMC) celebrated the start of construction of a new medical office building, tentatively scheduled to open in 14 months, at the medical center's Old Bridge location with a groundbreaking ceremony May 15.
RBMC and Landmark Healthcare Facilities have been working rapidly to deliver the new 95,000 square foot class "A" medical office building as part of RBMC's ongoing growth and renewal program. The new building will connect to the main hospital on the second floor via a "sky bridge." The building features a new imaging center (including women's imaging) on the first floor, a five-room operating room suite on the second floor, physician practice offices and an ambulatory surgery center (ACS). The ACS is a joint venture / partnership between RBMC and a group of more than 25 surgeons from RBMC's medical staff.
"This new building will transform our Old Bridge facility by placing a greater emphasis on surgical services such as orthopedic and bariatric surgery as provided by our Human Motion Institute and Institute for Weight Loss programs," said Michael R. D'Agnes, president and CEO, Raritan Bay Medical Center. "This is an exciting time for RBMC and our community as this is the culmination of months of strategic planning with our board of directors, executives and medical staff leaders and addresses the need to provide these highly-in-demand services."
"It's a real pleasure for me to have my first groundbreaking ceremony as Mayor be at our local community hospital," said Old Bridge Township Mayor Owen Henry during the ceremony. "At a time when we hear about hospitals throughout New Jersey reducing services and staff, or even closing, it's a great thing for our community that Raritan Bay Medical Center is investing in Old Bridge and expanding its facility."
Upon completion, the new building will permit a much needed expansion of the emergency department and relocation of cardiology services to the hospital. Its design allows patients and visitors to better navigate the facility. Also, the new building will give the medical center much greater visibility from Route 18 and expand the already free surface parking available at the Old Bridge hospital.
"Landmark is honored to be part of this great project. The commencement of construction is testament to the hard work of many and the strong leadership of the hospital," said Anthony Lampasona, president and COO, Landmark Healthcare Facilities. "We look forward to completing the project in the summer of 2014 and maintaining a rewarding relationship with RBMC, the Township of Old Bridge and the physician tenants."
Over the past few years as part of its growth and renewal program, RBMC has created private patient rooms at its Perth Amboy and Old Bridge locations, opened the Medical Pavilion at Woodbridge providing urgent care, added a second Center for Women at Perth Amboy and expanded the emergency department in Perth Amboy.
Hospital administrators and board members, partner organization Landmark Healthcare Facilities' administrative staff, local public officials, medical staff and employees attended the event.