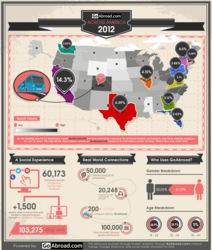 GoAbroad representatives can't wait to visit even more campuses over the coming years to help make travel dreams a reality for every individual!
Fort Collins, CO (PRWEB) May 17, 2013
Throughout 2012 and 2013 GoAbroad.com has visited a variety of international education offices and university campuses, and participated in numerous study abroad fairs, bringing a wealth of meaningful travel resources directly to students' fingertips.
The GoAbroad team is now pleased to showcase the results of these efforts in the "GoAbroad Across America" Infographic. Click the link to view this infographic in detail.
As the leading website for meaningful travel, GoAbroad has been providing a resource for US based students, participants, and those seeking adventure for over fifteen years.
"There are a lot of reasons to be optimistic about meaningful travel's future," said Troy Peden, founder of GoAbroad.com.
"More people want to travel to volunteer, teach, intern and study than ever before, and when the economy comes around they will be seeking those programs with a pent up demand of a couple years of waiting. The growing commercial market has innovated and created more programs that meet the desires of the travelers. I have no idea what GoAbroad will look like 15 years from now, but based on the incredible changes I can only believe that the GoAbroad family of nearly 100 dedicated staff will be doing what we all feel is a fulfilling job: sending like minded people abroad to partake in the life changing experiences we have all enjoyed over the years!"
The map in the "GoAbroad Across America" Infographic above shows search volume on GoAbroad.com based on an individual's current location. Whether students are interested in volunteering abroad, study abroad, or internships abroad, GoAbroad is dedicated to matching individuals to thousands of international opportunities through the Online Advisor Tool and by having GoAbroad representatives on campus to chat in person with students.
The "GoAbroad Across America" Infographic also showcases where and how GoAbroad.com influences the major international education sectors. For anyone who has ever wondered how GoAbroad connects with users through social media channels, or how many real world connections GoAbroad makes, now is the chance.
Through these efforts and more, GoAbroad.com is able to better connect with prospective participants, and continues to influence students, young adults, and professionals to enhance themselves through international experiences. GoAbroad representatives can't wait to visit even more campuses over the coming years to help make travel dreams a reality for every individual.
ABOUT GOABROAD.COM
GoAbroad.com has been the web's premier resource for meaningful international experiences and alternative travel opportunities for fifteen years, providing the most up-to-date and accurate information on programs available worldwide. From GoAbroad's GoMedia services, which offer a distinct range of internet marketing solutions for international educators, to the prestigious GoAbroad Innovation Awards, and the newest initiative - FundMyTravel - an online crowd funding site to help students raise money for meaningful travel experiences (http://www.fundmytravel.com), the GoAbroad team is dedicated to providing the most comprehensive resources to the field of international education.