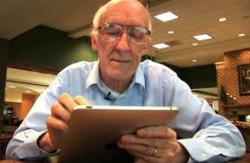 "This is the greatest benefit for the residents. It adds a layer of staying in touch and communication." - Jason Hedman, Regional Director of IT, on how learning to use technology can benefit the lives of older adults.
Chicago, IL (PRWEB) May 20, 2013
A coalition of communications advocates visited The Clare senior living community in Chicago to learn about how residents are using mobile technologies including smartphones and tablets. They filmed a brief video, documenting the technological savvy of these individuals. This will be presented to State Legislators to promote the importance of technology to different demographics.
A recent Healthcare News article points to the benefits that technology can have on seniors and those who care for them. Email, Internet, social media, Google and Skype are all terms that more and more seniors want to understand. The survey only confirmed what Jason Hedman of Senior Care Development already knew. "When we've asked how many residents use computers, 80% raise their hands. When those that don't use them yet see this, they're often inclined to check it out themselves," he said. The regional director of IT for Monarch Landing, The Clare and Sedgebrook retirement communities, Hedman has been helping seniors increase their tech savvy for seven years.
These Chicago area senior living communities are staying ahead of the curve. Recent trends point to the fact that baby boomers are among the fastest growing demographic to use new technology. Hedman said that the technology team at Monarch Landing, Sedgebrook and The Clare, work in several capacities. "We do weekly computer clubs at some of the communities, rotating through topics which include new technology, favorite websites, digital photography and trouble-shooting," he said. "In addition to that, we have a series of computer classes for beginners as well as for using specific software programs such as Microsoft Word or Publisher."
Hedman said that his department also provides in-home computer service in the residential apartments at each of the communities. "We help with installation, education, training, consulting, etc.," he said. "We try to be a resource for the residents."
The technology team often works on dispelling the negative reputation that social media has earned. "The media gives things like Facebook and YouTube such a bad rap. Part of our role is to diffuse that. Facebook is the second most widely used website in the world, with Google being number one," Hedman said. Facebook can be a great way for residents to stay in touch with family members, and reconnect with friends and acquaintances they may not have seen in years if not decades. "This is the greatest benefit for the residents," said Hedman. "It adds a layer of staying in touch and communication."
Technology is also a great way for seniors to stay sharp and keep learning. "There's so much information out there, and new things that can be learned without having to go to a classroom or college campus," said Hedman. Furthermore, technology helps seniors to overcome some of the challenges that come with aging. Hedman said that he stays on top of the newest and best in assistive devices as well as assistive features to standard devices that can help residents in a variety of ways. "If someone has macular degeneration, it might help to replace their computer monitor with a television. There's magnifying software available. If someone has motor difficulties, they might have an easier time using a track ball on a computer rather than a mouse. There's speech recognition software that can help with communication," he said.
Research suggests playing specific computer games that actively engage different parts of the brain to help preserve memory and focus. Hedman will recommend websites such as lumosity.com, which offers a variety of brain games, memory exercises, and more for seniors.
Over the past two years, Hedman said, residents are increasingly investigating the use of iPads, Kindles and other tablets and readers. "Even people who in the past would shy away from technology are interested in these. Reading is a big hobby for a lot of seniors and these [tablets] are very popular," he said.
Whether it's used to keep brains strong through the newest games and apps, to communicate with children, grandchildren and even great-grandchildren, or to make lives a little bit easier, technology has impacted the lives of older adults. The Clare senior living community is making this transition a little easier each day.
The Clare at Rush and Pearson is a luxury continuing care retirement community in the heart of Chicago with incomparable lifestyle, amenities and the financial stability only a debt-free community can offer. The Clare has been named one of the Top 20 Assisted Living Facilities in Illinois by Assisted Living Today. The Clare is owned by Chicago Senior Care and managed by Life Care Services. For more information visit: http://www.theclare.com or call 312-784-8100.