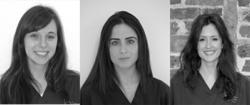 Smile With Confidence
Hove, East Sussex (PRWEB UK) 18 May 2013
East Sussex dental Brighton Implant Clinic recently added three new dentists to its clinical locations at Brighton and Hove, UK to better serve its patients' dental implant restoration needs. The three dentists, Dr. Aurora Fernandez, Dr. Diana Hernandez, and Dr. Lucia Sanchez, are now working as full-time restorative dentists, and are looking forward to acquiring more knowledge of and experience in their field.
"We couldn't be happier to have Dr. Fernandez, Dr. Hernandez, and Dr. Sanchez join our team of experts and offer them the opportunity to learn more about restorative dentistry and dental implant placements. The knowledge and capability they bring to the table are noteworthy, and they have been great assets in treating our patients with world-class care, expertise, and friendliness," says Dr. Bruno Silva, Principal Dentist at Brighton Implant Clinic. "Here at Brighton Implant Clinic, we are performing dental implant placement surgeries using cutting-edge methods and the most up-to-date technology within our industry. It's a great place to learn more about restorative dental techniques and gain more experience in the process."
All three dentists are originally from Spain, where they obtained a degree in dentistry from Seville and Murcia. After graduation, they all worked as general dental practitioners in practices back in Spain before coming to Brighton Implant Clinic.
"In addition to being committed to giving our patients top-quality treatments, all of us here at Brighton are committed to each other and helping each other advance professionally and personally in dental knowledge and expertise. In many ways, we're more than a team- we're a family," continues Silva. "Dr. Fernandez, Dr. Hernandez, and Dr. Sanchez have proven to be great assets to our team and are fitting into our family well. We're confident and enthusiastic about the future and what it holds for our practice, and their roles in that development."
Brighton Implant Clinic has three clinic locations located in Hove, Halisham, and Brighton, and is a two-time award winner of the Private Dentistry Awards. The practice's dental practitioners have a collective experience of over 50 years of dental implant placement and treatment services; additionally Brighton Implant Clinic is internationally renowned for its world-class patient care and top-quality dental implant and treatment services, with patients venturing from as far as Australia and the United States for treatment. Please visit http://www.brightonimplantclinic.co.uk to learn more about the practice's services and schedule a free initial consultation.