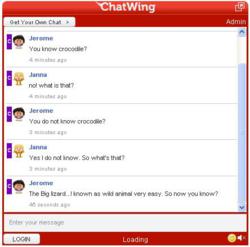 Cambridge, MA (PRWEB) May 17, 2013
As part of the online expansion campaign of Chatwing Development Team, the developers have launched a new version of their chatroom tool. In this new version, the company highlighted some key points to help visitors learn more about the importance of Chatwing chatroom for their websites. Aside from that, the team also shared some hints about the upcoming features of the universal chatbox.

Real-time Efficiency – Communication is one of the main tenets of the Chatwing chatbox. Because of its speed, users can exchange information in real-time, and they can also discuss any topics with relative ease. More than that, the Chatwing platform works effectively and is not slowed down by its advanced features.
Modern Customization Methods – According to the company's developers, experience is an essential thing for users. Aside from global connectivity, the users can customize their chatrooms as often as they want. They can change colors through Chatwing's color palettes, and they can choose many font styles. Background images are also allowed for better visual representation.
Simple Visibility Booster – Chatwing chat app is straightforward; users can benefit from it in terms of online visibility, as well. Once embedded to a website, the chatroom can create streams of traffic by initiating visitors into creating topics. There is also a chat network feature that allows users to link their chatrooms together for better connectivity. In this way, websites will gain more exposure.
Chatwing chat software company will continue its advancement to different online niches and communities. In this way, more web users will gain new chatting experience. In the coming months, Chatwing team will resume adding more chatbox themes that will ensure greater chatting experience for everyone.
About Chatwing.com
Chatwing.com specializes in the new field of website chat. Over years, the Chatwing team has introduced live chat widget for hundreds and thousands of blogs. The Chatwing application bridges people from many parts of the world, creating global synergy through the Internet. The shout box can be installed in just seconds, and it can be used for varying purposes such as leisure and Internet marketing. It also allows a user to customize the size, color, and name of the widget.