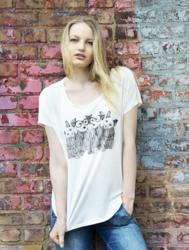 We're always trying to find new angles to help animals. I just adopted a dog from an animal shelter, which has been a great experience. - Lise Ellingsen, Designer
New York, NY (PRWEB) May 20, 2013
Environmentally friendly graphic t-shirt company, Blondes Make Better T-Shirts, announces plans to donate 20% of profits from their popular "Cats & Dogs" design to New York-based animal shelter organization, ASPCA (American Society for the Prevention of Cruelty to Animals, http://www.aspca.org).
Designed for quirky animal lovers far and wide, the Cats & Dogs shirt is a result of designer Lise Ellingsen's love for t-shirts and love for animals. Ellingsen adds, "We're always trying to find new angles to help animals. I just adopted a dog from an animal shelter, which has been a great experience."
The Cats & Dogs design is available in several different styles including the Skinny Scoop ($56), V-neck ($56), Tank Top ($48) and Cocoon Tee ($64). Visit http://www.blondesmakebettertshirts.com and use discount code: "help-cats-dogs" for a 10% discount on all styles of Cats & Dogs designs, 20% will automatically go to ASPCA. Discount code "help-cats-dogs" valid until June 30th, 2013.
Blondes Make Better T-Shirts is best known for the tongue-in-cheek humor that pokes fun at the inevitable "blonde moments" we all have. More than just another dumb blonde brand, Blondes Make Better T-Shirts products are also earth-conscious. All products from the line are manufactured 100% sweatshop-free in the US with recycled and sustainable materials. With fabrics comprised of beech tree, eucalyptus tree, and recycled plastic bottles mixed with organic cotton Blondes are taking a stand to save the world, one t-shirt at a time.
Blondes Maker Better T-Shirts, now sold at Lord & Taylor, retails from $48-$80. With modern cuts and flattering fits, we no longer have to highlight our hair to look as good as a blonde – and thanks to these high-end tees, being blonde has never looked better. Learn more about Blondes Make Better T-Shirts and see their full collection at http://www.blondesmakebettertshirts.com.
About The Designer
Award-winning Norwegian designer/artist Lise Ellingsen (a natural blonde, of course) enjoys taking blonde clichés and turning them into humorous, chic fashion statements with her Blondes Make Better T-Shirts line. Each t-shirt embraces everyone's "inner blonde" with funny "OH NO SHE DIDN'T" graphics that are bound to "turn any frown upside down." Each t-shirt is made of delightfully soft and environmentally sophisticated fabrics. Simply put – Blondes Make Better T-Shirts is made for those who love style and smiles. Produced in a sweatshop-free facility in sunny California, each design is created by Blonde #1, Lise, who lives, works, and plays on the cheery side of Chelsea, NYC. Oslo born Ms. Ellingsen, is an international award-winning art director and has worked with the top advertising and graphic design firms in New York, Amsterdam and Oslo, and is also making short films in New york that have been shown in several festivals in Europe and the U.S.