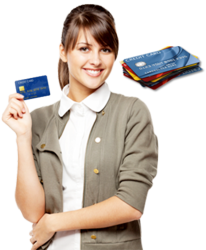 Greenville, SC (PRWEB) May 17, 2013
Having a Credit Card can be essential, as many situations and emergencies call for funds otherwise unavailable. However it can be difficult for those who have never had a credit card or those who are struggling with bad credit to get a new credit card. Credit Help Cards helps anyone who applies to get the best possible deal and arrangement when it comes to credit.
Anyone in need of a new credit card should turn to Credit Help Cards. Bad credit, no credit, good credit, bankruptcies, these factors used to mean approval or rejection when it came to credit card applications. Now however Credit Help Cards helps all of their applicants to be approved quickly and easily for high quality credit cards. Clients are allowed to choose which type of credit card they prefer to own, from MasterCard, Discover, VISA, and American Express. Credit Help Cards also makes sure that their clients are getting the best deal possible.
To apply for a credit card today visit http://credithelpcards.com/
This process works by presenting each application to the best credit card providers available that specialize in bad credit. Each provider competes for the application by offering their best arrangements. Credit Help Cards then selects the offer with the highest maximums, the lowest rates, and only providers with no hidden fees or other tricks.
About CreditHelpCards.com
Credit Help Cards is the leading credit card finance provider in USA fully dedicated to help its customers acquire a credit card regardless of credit history. They design and develop customized no credit credit cards, bad credit credit cards, and good credit credit cards. Voted the best for "Quality Customer Service; Best National Credit Cards Service" by thousands of people, their finance experts focus in providing its customers information and various tools available for different credit card offers, help them to choose the best that fits their goals and needs.