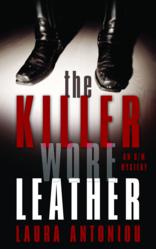 "What's not to love?"

—Bay Area Reporter
(PRWEB) May 17, 2013
This Monday, May 20th, publishing legends Judith Regan and Laura Antoniou tackle the mystery of the popularity of 50 Shades of Grey, and the reverberating effects on erotic fiction. They will be appearing in person at Barnes and Noble (Broadway) in New York, and on the Joy Behar: Say Anything! show at 9pm Eastern time.
Editor and talk show host Judith Regan interviews Laura Antoniou about The Killer Wore Leather, her tongue-in-cheek mystery set at a leather convention, and they discuss the interest in sexually explicit fiction among women, thought to be on the rise. Join these two legendary women for a no-holds-barred conversation and an evening of intrigue and insight at Barnes & Noble on May 20th, or watch them discuss the phenomenon on Joy Behar: Say Anything!
Nobody knows publishing like Judith Regan, with wildly popular acquisitions ranging from The Game to Wicked. Laura Antoniou has a developed a loyal following for The Marketplace, a series of erotic fiction that captured the dynamics of BDSM long before 50 Shades of Grey had emerged. Both women contributed to 50 Writers on 50 Shades of Grey (Lori Perkins), a comprehensive examination of the phenomenon. Laura and Judith have been on the cutting edge of writing, always a step ahead of the trends, and are perfectly poised to discuss the current climate of publishing and writing from an insider perspective.
Join Laura and Judith at Barnes and Noble to learn more.
50 Shades of Fascinating
Monday, May 20th, 7pm
Barnes & Noble
2289 Broadway, New York, NY